Starts: November 2nd
Feastday: November 11th
👉 Pray with the Pray Catholic Novena app 👈
Introduction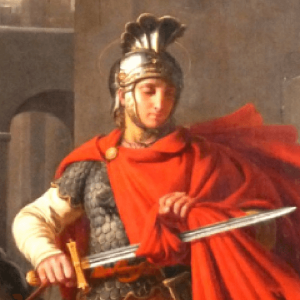 Saint Martin of Tours was born in in Sabaria, Pannonia (present-day Hungary) in the year 316 AD. His father was a tribune, a high-ranking officer in the Imperial Horse Guard. Martin and his family moved to Ticinum, in Northern Italy, and that is where he grew up.
When he turned 15, Martin had to follow his father and join the cavalry of the Roman military forces. While a young soldier at Amiens, a beggar approached Martin. It was cold, and the beggar was not wearing sufficient clothing.
Martin took off his own cloak and, with his sword, he cut it in two, giving half to the beggar. That night, Christ appeared to Martin sand told him, "Martin, a mere catechumen has clothed me."
(A catechumen is one who is being instructed in the Christian faith, prior to being baptized. In the early Church, the catechumenate could last many years.) The point was that, what Martin did for a beggar, he had actually done for Christ.
Several years later, Martin told his military commander that he could no longer in good conscience fight for the Roman army. His superiors accused him of being a coward and demanded he be thrown in prison. Martin instead volunteered to go into battle completely unarmed, but before the battle was joined, the opposing army accepted a truce and the battle was averted. Martin was allowed to then leave the Roman military.
Martin decided to dedicate himself completely to Christ and His Church. He traveled to Tours and studied under St. Hilary of Poitiers. Martin fought against the Arian heresy, which denied the divinity of Christ. The Arians hated him so much that he had to flee to an island in the Adriatic where he lived as a hermit.
In 371, the city of Tours needed a new bishop and the people chose Martin, but he did not want the job, so the people deceived him into visiting them and he was ordained a bishop, which he humbly accepted.
St. Martin died in Candes-Saint-Martin, Gaul in 397.
This novena text was found at catholictruth.net/CTNet_RC/en/archive.asp?d=20161111
Intro Prayer (to be said each day)
Blessed Saint Martín of Tours, full of the Spirit of the Lord always having inexhaustible charity for the needy.
You, who full of love and generosity when you saw the beggar that was freezing from cold, without knowing that in truth he was Christ, did not doubt to give him half of your cape, and did not give it completely to him since the other half belonged to the Roman army; you, who did not seek recognition but only to favor your neighbor, found glory before the Lord. And when the Savior appeared to you dressed with the half-cape so as to express appreciation for your gesture and He told you "today you covered me with your mantle", you decided to no longer serve the army and to dedicate your life to God and to the salvation of souls, being from then on a propagator of the faith and a holy man totally dedicated to whomever was in need.
Glorious Saint Martin, you who worked miracles and prodigies, who with joy, amiability and the most exquisite goodness won over the hearts of all and did not cease to ever work for their wellbeing: give me your hand and help me to come out of all lack and scarcity which today afflicts me and weighs me down.
Glorious Saint Martin, my blessed patron, I humbly ask you with great faith that you attain from God, the fount of all Mercies that my ways on this earth, my work and my toils be cleansed and opened with clarity. In the name of Omnipotent God, Saint Martin of Tours, remove all that harms me and give me work and prosperity. O blessed relief, give me your saintly protection, assist me, I beg you, in these difficult times:
(mention your request here)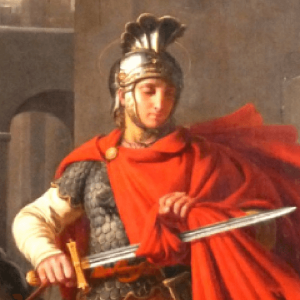 Concluding Prayer (to be said each day)
You, noble Saint Martin, who have miraculous power take my supplications with haste to the Heavens, ask for my home all that is good; may sorrows, ruins and miseries leave, and may the Lord deign I merit blessed fortune in my work (business), and with it, abundance and prosperity, so I may give freely to all in need.
Saint Martin, blessed Bishop of Tours, may your virtues and charity accompany me always. I will not cease to pray to you and to thank Almighty God for all the favors granted; and I promise to be charitable and giving with all my brothers and sisters in need.
Saint Martin please intercede for me; free and protect all my loved ones and I from all that is evil. Amen.
---
Pray the novena easily via your smart phone with daily reminders so you never forget to pray using the Pray Catholic Novena app!