We started our app development at the beginning of this year, 2016. By the end of the year, we saw tens of thousands of novenas prayed by people using the app.
How Did It Happen?
I'm Devin, and my neighbor and friend Chad decided to develop an app together in the Catholic space, one that I have been involved in for fifteen years.
Originally, the app was going to do All the Catholic Things! but through Chad's experience we wisely pared it down to have it do one thing well.
That one thing was helping Catholics pray novenas.
A novena is a nine-day prayer to God through the intercession of a saint. So, you might ask St. Joseph to pray for you to become a better husband and father. Or you might ask St. Anne to pray for you for God's help in finding your husband.
Novenas are hard to pray, because they span nine days, each day has a specific prayer to pray, and trying to remember what day you are on and where the prayers are found (often scattered across the web) can be difficult. Our Pray: the Catholic Novena App solved those problems.
So we started development, focusing on Apple devices first to see if we could get traction with the app. By early June we had a release ready with about twenty novenas possible to pray.
We released and rejoiced when thousands of people discovered the app and started using it! And those people were across the entire world, praying at all hours day and night.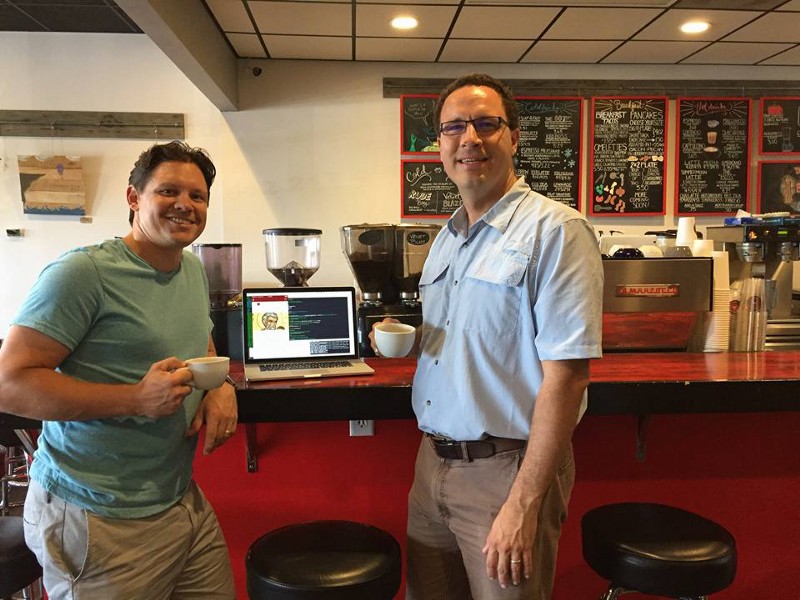 A Lot Goes Into an App
We launched with features enabling people to pray a novena or even multiple ones at a time, giving them the ability to connect to facebook and share prayer intentions with friends, notifying them each day to remind them to pray their novena, tracking the novenas they had prayed, and giving them the option to connect to friends to pray together. All these features took considerable time to develop and refine. And once we released, we heard feedback that many people didn't want to connect to facebook (privacy concerns, some legitimate, some not, but either way we made that feature optional).
We also had a large number of people clamoring for an Android version. The tough thing is that porting to Android meant a total rewrite of the app with a different programming language, patterns, platform, and devices.
We turned to our blossoming community of novena prayer warriors and set up an IndieGogo crowd funding effort. We raised over $1,300, which normally would not be near enough to fund a mobile app's development. But by using our extensive connections in the developer community in Austin, Texas, we were able to find a talented young Android developer willing to take on the project and grow his own portfolio and skills.
As of this writing, end of 2016, the Android port is two-thirds complete, and we couldn't be happier.
Give the Numbers!
We started with zero users praying zero novenas in mid-2016. By the end of the year, thousands of people prayed tens of thousands of novenas in just six months' time. We averaged three novenas per person, an incredible number given that most Catholics do not even pray one novena per year.
What surprised us was how worldwide our audience was: people were praying in England, Australia, Sweden, Japan, South America, Canada, Africa, and Southeast Asia.
We also have had feature requests, novena requests, and positive feedback pour in everyday. It overwhelmed my inbox, a happy problem to have!
Near the end of the year, we launched our patronage program. You see, the app itself is free. But we had people actually asking us to let them pay us money to support our efforts — wow! So we rolled out a way for users to become patrons at three different levels, and were amazed at the response: Hundreds of users generously became patrons, enabling us to be able to fund the rest of the Android development and bring the app to millions more people. And those patrons came in from countless countries. We had to start looking up the currency of each patron to discover which country it was from! Worldwide prayers going up, incredible.
What's Ahead for 2017?
For 2017, we have several plans.
First is finishing the Android version and releasing it worldwide.
Second is publishing another twenty-five novenas based on the popular demand.
Third is growing the community and strengthening the connections between people in it. (Feel free to join our Facebook community.)
Fourth is helping educate Catholics and all people about the beauty of novena prayers. It's been a joy to hear how people have been blessed by the app. Such a simple thing, but one that is helpful to people in growing closer to God.
I can't wait to see mountains move from faithful prayers in 2017!