Starts: June 18th
Feastday: June 27th
👉 Pray with the Pray Catholic Novena app 👈
History
A Byzantine icon from the 1400s depicts Our Lady of Perpetual Help, holding the child Jesus tenderly as He looks at the implements of His Passion. The icon was thought lost with the destruction of the church it was housed in by the French Revolutionaries during their occupation of Rome, but the Augustinians had rescued it and it eventually came under the guardianship of the Redemptorists. Join millions of Catholics who have called upon Our Lady of Perpetual Help in their great needs.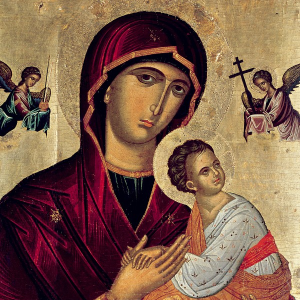 Intro Prayer
Oh Mother of Perpetual Help, grant that I may ever invoke your powerful name, the protection of the living and the salvation of the dying. Purest Mary, let your name henceforth be ever on my lips. Delay not, Blessed Lady, to rescue me whenever I call on you. In my temptations, in my needs, I will never cease to call on you, ever repeating your sacred name, Mary, Mary.
What a consolation, what sweetness, what confidence fills my soul when I utter your sacred name or even only think of you! I thank the Lord for having given you so sweet, so powerful, so lovely a name. But I will not be content with merely uttering your name. Let my love for you prompt me ever to hail you Mother of Perpetual Help. Mother of Perpetual Help, pray for me and grant me the favor I confidently ask of you (mention request here).
Concluding Prayer
Hail Mary three times
---
Pray the novena easily via your smart phone with daily reminders so you never forget to pray using the Pray Catholic Novena app!