Facts about Novena to the Sacred Heart of Jesus
Feastday: June 28rd
Novena Starts: June 19th
Patron saint of the Apostleship of Prayer
Birth: eternal
Death: eternal
👉 Pray the Novena to the Sacred Heart of Jesus with the Pray app 👈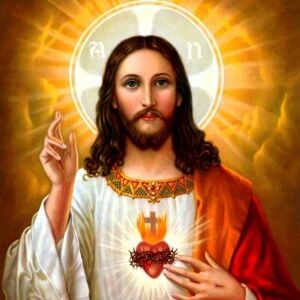 Sacred Heart Novena Prayers
O my Jesus, you said, "verily I say to you, ask and you shall receive, seek and you shall find, knock and it shall be opened to you," behold I knock, I seek and I ask for the grace of (mention your intention).
O my Jesus, you said, "verily I say to you, whatsoever you shall ask the Father in My Name He will give it to you," behold in your name I ask the father for the grace of (mention your intention).
O my Jesus, you said, verily I say to you, "heaven and earth shall pass away, but my words shall not pass away," behold I encouraged by your infallible words, now ask for the grace of (mention your intention).
O Sacred Heart of Jesus, for whom it is impossible not to have compassion on the afflicted, have pity on us miserable sinners and grant us the grace which we ask of you, through the Sorrowful and Immaculate Heart of Mary, your tender Mother and ours.
Our Father; Hail Mary; Glory Be
Hail, Holy Queen, Mother of Mercy, Our life, our sweetness, and our hope, to thee do we cry, poor banished children of Eve, to thee do we send up our sighs, mourning and weeping in this valley of tears. Turn then, most gracious advocate, thine eyes of mercy toward us, and after this, our exile, show unto us the blessed fruit of thy womb, Jesus. O clement, o loving, o sweet Virgin Mary. Pray for us, o holy Mother of God, that we may be made worthy of the promises of Christ, Amen.
St. Joseph, foster father of Jesus, pray for us.
---
👉 Pray the Novena to the Sacred Heart of Jesus with the Pray app 👈
Devotion to the Sacred Heart of Jesus
Jesus' Sacred Heart burns with love for us and meditating on it deepens our gratitude to Him for giving His life for us on the Cross, as well as inspires us to avoid sin and grow in holiness that we might be less unworthy of the gift of Heaven He offers.
The Sacred Heart of Jesus is traditionally depicted with a flaming heart that shines with light. His heart is pierced, symbolizing the Roman soldier's lance that pierced His side on the Cross. It is also shown with Jesus' Crown of Thorns around it, along with the Cross.
The Church Fathers referenced Jesus' heart, but the first millennium did not see widespread devotion to it. In the 1100s and 1200s, St. Bernard of Clairvaux and St. Francis of Assisi promoted fervent devotion to Christ's suffering in His Passion, in particular His sacred wounds. St. Bernard explained that when Christ's side was pierced by the lance, Jesus revealed the burning love in His heart for us.
In the late 1200s, St. Gertrude extended this devotion based on the visions that Jesus gave to her.
The Catechism of the Catholic Church states in paragraph 478 that Jesus "has loved us all with a human heart. For this reason, the Sacred Heart of Jesus, pierced by our sins and for our salvation, 'is quite rightly considered the chief sign and symbol of that…love with which the divine Redeemer continually loves the eternal Father and all human beings' without exception." (This is a reference to Pope Pius XII's encyclical Haurietis Aquas on the Sacred Heart.)
St. Margaret Mary's Visions of the Sacred Heart
Devotion to the Sacred Heart blossomed even further when Jesus appeared to St. Margaret Mary Alacoque and instructed her in the meaning of His Sacred Heart.
Jesus directed her in what the devotion should look like: one should receive Holy Communion on the first Friday of each month, spend a holy hour of adoration before the Eucharist every Thursday, and celebrate the Feast of the Sacred Heart. Jesus gave her a specific instruction to spend an hour every Thursday night meditating on Jesus' Agony in the Garden of Gethsemane (the first Sorrowful Mystery of the Rosary).
Jesus told St. Margaret Mary Alacoque that He would make 12 promises to those who honor His Sacred Heart:
I will give them all the graces necessary for their state in life.

I will establish peace in their families.

I will comfort them in their trials.

I will be their secure refuge during life, and, above all, in death.

I will shed abundant blessings on all their undertakings.

Sinners will find in My Heart an infinite ocean of mercy.

Lukewarm souls will become fervent.

Fervent souls will rapidly grow in holiness and perfection.

I will bless every place where an image of My Heart shall be exposed and honored.

I will give to priests the gift of touching the most hardened hearts.

The names of those who promote this devotion will be written in My Heart, never to be blotted out.

I promise thee, in the excessive mercy of My Heart, that My all-powerful love will grant to all those who receive Holy Communion on the First Friday of nine consecutive months, the grace of final penitence; they shall not die in My disgrace nor without receiving their Sacraments; My Divine Heart shall be their safe refuge in this last moment.
Indulgences From the Sacred Heart
On July 21, 1899, Pope Leo XIII directed all bishops throughout the world to observe the Feast of the Sacred Heart in their dioceses. He also approved these indulgences for the devotion:
For performing the devotion publicly or privately, seven years and seven quarantines (the remission of temporal punishment equivalent to what would be granted for forty days of penance) each day.

If the devotion is practiced daily in private, or if a person assists at least ten times at a public function, a plenary indulgence (remission of all temporal punishment for sins) on any day in June or between July 1-8 (Decree urbis et orbis, May 30, 1992).

The indulgence toties quoties (for the souls in Purgatory) on the thirtieth of June or the last Sunday of June (January 28, 1908) in those churches where the month of June is celebrated solemnly. Pius X (August 8, 1906) urged a daily sermon, or at least for eight days in the form of a mission (January 26, 1908).

To those priests who preach the sermons at the solemn functions in June in honor of the Sacred Heart, and to the rectors of the churches where these ceremonies are held, the privilege of the Gregorian Altar on June 30 (Pius X, August 8, 1906). A plenary indulgence for each communion in June, and to those who promote the solemn celebration of the month of June ("Acta Pontificia", IV, 388, August 8, 1906).