Starts: July 17th
Feastday: July 26th
👉 Pray with the Pray Catholic Novena app 👈
Introduction
St. Anne is the mother of Our Lady, and as such has been accorded great honor within Catholic Tradition.
She was the spouse of St. Joachim and is invoked in particular for the intention of finding one's future husband. She is also considered the patroness of housewives, women in labor, and grandmothers.
When we consider how virtuous and holy our Blessed Mother was, we can imagine the tremendous graces that our Lord gave to her parents, Sts. Joachim and Anne, that they would faithfully instruct their daughter in the ways of God.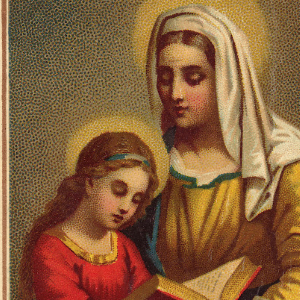 Daily Prayer
Heavily laden with the weight of my troubles, I kneel at your feet and humbly beg you to take my present need under your special protection.
(mention your request)
Vouchsafe to recommend it to your daughter, the Blessed Virgin Mary, and lay it before the throne of Jesus. Cease not to intercede for me until my request is granted. Above all, obtain for me the grace to one day meet God face to face, and with you and Mary and all the angels and saints praising Him through all eternity. Amen.
Concluding Prayer
(Our Father) (Hail Mary) (Glory be to the Father)
Pray for us, Saint Anne. That we may be made worthy of the promises of Christ. O Jesus, Holy Mary, St. Anne, help me now and at the hour of my death. Good St. Anne, intercede for me.
---
Pray the novena easily via your smart phone with daily reminders so you never forget to pray using the Pray Catholic Novena app!