Starts: April 19th
Feastday: April 28th
👉 Pray with the Pray Catholic Novena app 👈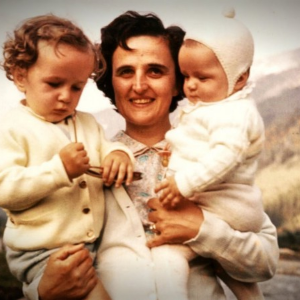 Introduction
Gianna Beretta Molla was an Italian doctor, born in 1922, to a large family in Magenta, Italy. She was devout from an early age and became dedicated to apostolic work to the needy as a young woman. She earned medical and surgical degrees in 1949, opened a medical office, and also worked at hospital doing pediatrics.
In 1955 she married an engineer named Pietro Molla who worked in her same office. Within five years they were blessed with three children, but in 1961, when she became pregnant with her fourth child, she started experiencing severe pain.
The doctors discovered that she had a tumor in her uterus, and her options were to abort the baby, a complete hysterectomy, or to have the doctors try to remove only the tumor. She opted for the latter and directed the doctors to save her baby's life over her own, should it come down to that.
The tumor was removed, and her baby was born, but shortly afterwards she died. Pope St. John Paul II beatified her in 1994 and she was canonized a decade later.
She is the patron of mothers, physicians, and unborn children.
This novena is from the St. Gianna Physician's Guild: www.stgiannaphysicians.org/novena_to_st_gianna
Intro Prayers (start each day with this prayer)
God, our Father, You granted to Your Church the gift of St. Gianna Beretta Molla. In her youth she lovingly sought You and drew other young people to You, involving them in the care of the sick and the elderly. We thank You for the gift of this young woman so deeply committed to You. Through her example, give us the grace to dedicate our lives to Your service, for the joy of our brothers and sisters.
Glory be to the Father and to the Son and to the Holy Spirit, as it was in the beginning, is now and ever shall be world without end. Amen.
Jesus, Redeemer of humanity, You called St. Gianna to become a doctor, a role she lived as a mission to comfort bodies and souls. She saw You in the sick, needy and weak. We thank You because, through this servant, You revealed Yourself to us as "One who serves" and alleviates the sufferings of all men and women.
As we treasure her example, may we become generous Christians at the service of our brothers and sisters, especially toward those with whom You wish to share Your Cross.
Glory be…
God, Sanctifying Spirit, You love the Church as Your bride. You poured into the heart of St. Gianna a share of Your love so that she could give it to her family, cooperate with You in the wonderful plan of creation, and give life to new children who would know and love You.
We thank You for this model wife and for her encouraging example. Grant us serene and Christian mothers who are committed to transforming our families into cenacles of faith, love, generosity, and service. Glory be…
O God, Creator and Lover of the human family, You remained with St. Gianna when she painfully had to choose between her life and the life of the child she had awaited for so long. Trusting You alone and aware of Your commandment to respect human life, St. Gianna found the courage to do her duty as a mother and to say "yes" to her baby's life, thus generously sacrificing her own.
Through the intercession of Mary, Mother of Jesus, and by the example of St. Gianna, inspire all mothers to welcome with love the seeds of a new life. Help us respect the gift of human life.
Grant us the grace to find inspiration in St. Gianna, a model spouse and mother who, following the example of Christ, gave up her life for the life of others.
3 Hail Marys… Amen.
---
Pray the novena easily via your smart phone with daily reminders so you never forget to pray using the Pray Catholic Novena app!