Facts about St. Jude Novena
Feastday: October 28th
Novena Starts: October 19th
Patron saint of hopeless causes, desperate situations, grave illnesses, lost causes
Birth: 1st century BC
Death: 1st century AD
👉 Pray the St. Jude Novena with the Pray app 👈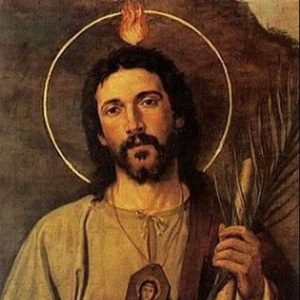 St. Jude Novena Prayers
Intro Prayers (start each day with this prayer)
Most holy Apostle, St. Jude, faithful servant and friend of Jesus, the Church honors and invokes you universally, as the patron of difficult cases, of things almost despaired of.
Pray for me, I am so helpless and alone.
Intercede with God for me that He bring visible and speedy help where help is almost despaired of. Come to my assistance in this great need that I may receive the consolation and help of heaven in all my necessities, tribulations, and sufferings, particularly:
(make your request here)
and that I may praise God with you and all the saints forever. I promise, O Blessed St. Jude, to be ever mindful of this great favor granted me by God and to always honor you as my special and powerful patron, and to gratefully encourage devotion to you. Amen.
Concluding Prayer for each day
May the Most Sacred Heart of Jesus be adored, and loved in all the tabernacles until the end of time. Amen.
May the most Sacred Heart of Jesus be praised and glorified now and forever. Amen
St. Jude pray for us and hear our prayers. Amen.
Blessed be the Sacred Heart of Jesus
Blessed be the Immaculate Heart of Mary
Blessed be St. Jude Thaddeus, in all the world and for all Eternity.
(Our Father, Hail Mary)
---
👉 Pray the St. Jude Novena with the Pray app 👈
Who Is St. Jude?
St. Jude Thaddeus was one of the 12 Apostles of Christ. (Note that he should not be confused with the traitor Judas Iscariot.)
St. Jude is called the "brother of Jesus" in Matthew 13:55 and Mark 6:3, but we know from Catholic Tradition that this usage means a relative of Jesus, potentially a cousin, as his mother was Clopas, the Virgin Mary's cousin.
St. Jude is also called "the brother of James," indicating St. James the Less, and Tradition indicates St. Jude was the author of the Epistle of Jude in the New Testament.
Symbols of St. Jude
St. Jude is often depicted with a club, since some sources say he was martyred by being beaten to death with a club.
He is also often shown with a flame over his head, a reference to his presence in the Upper Room at Pentecost, with the Virgin Mary and the other Apostles, where they received the Holy Spirit.
In paintings, St. Jude is shown holding an image of Christ, called the Image of Edessa.
The legend goes that King Abgar of Edessa asked Jesus to cure him of an illness. Jesus responded by making an impression of his face onto a cloth and sent it back to Abgar through his envoy. After Christ's crucifixion, St. Jude sent another disciple to King Abgar and immediately Abgar was healed. The king and his kingdom converted to Christianity.
The Martyrdom of St. Jude
After his death, St. Jude's body was placed in a crypt in St. Peter's Basilica in Rome.
Over the centuries, many people have prayed for his intercession and received help, leading to his designation as the patron saint for hopeless causes. Both St. Bridget of Sweden and St. Bernard were given private revelation that St. Jude was the patron saint of the impossible.
According to one tradition, Saint Jude was martyred in 65 AD in Beirut along with the Simon the Zealot (also an Apostle), executed either by an axe or club.
More Resources on St. Jude
When you do not know which saint you should turn to for your needs, St. Jude is a great one to pray a novena to. Along with St. Jude, the novena to St. Joseph has been prayed by countless souls for all their needs. These two great saints can be your go-to standbys for any intention.
Do We Need St. Jude's Prayers?
When I first became Catholic, I was skeptical of asking saints to pray for me, a hold over from the biases of my Protestant days.
But as I grew in my faith, I realized that not only can we ask the saints, like St. Jude, to pray for us, but that it is the best thing that we can do!
Why?
First, because the saints' holiness exceeds our own. They obeyed our Lord, did His will, and dedicated themselves to Him. But that's just the tip of the iceberg for why we should ask them to pray for us. It took up too much room to put here, so I wrote an article on why you need to invoke the saints in prayer, and the benefits you will get from it.