Facts about St. Patrick Novena
Feastday: March 17th
Novena Starts: March 8th
Patron saint of Ireland, engineers, paralegals, and against snakes
Birth: 387
Death: March 17th, 461
👉 Pray the St. Patrick Novena with the Pray app 👈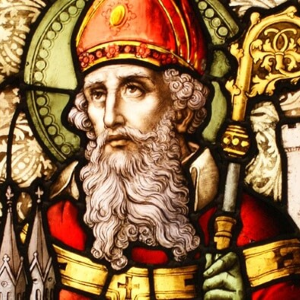 St. Patrick Novena
Intro Prayer (to be said each day)
St. Patrick, obtain for me grace to love God with my whole heart, to serve him with my whole strength, and to persevere in good purposes to the end, o faithful shepherd of the Irish flock, who wouldst have laid down a thousand lives to save one soul, take my soul, and the souls of my countrymen, under thy special care. Grant that all hearts may share the blessed fruits of that Gospel thou didst plant and water.
Daily Novena Prayers, From St. Patrick's Breastplate
Day 1:
I arise today Through a mighty strength, the invocation of the Trinity, Through a belief in the Threeness, Through confession of the Oneness Of the Creator of creation.
Day 2:
I arise today Through the strength of Christ's birth and His baptism, Through the strength of His crucifixion and His burial, Through the strength of His resurrection and His ascension, Through the strength of His descent for the judgment of doom.
Day 3:
I arise today Through the strength of the love of cherubim, In obedience of angels, In service of archangels, In the hope of resurrection to meet with reward, In the prayers of patriarchs, In preachings of the apostles, In faiths of confessors, In innocence of virgins, In deeds of righteous men.
Day 4:
I arise today Through the strength of heaven; Light of the sun, Splendor of fire, Speed of lightning, Swiftness of the wind, Depth of the sea, Stability of the earth, Firmness of the rock.
Day 5:
I arise today Through God's strength to pilot me; God's might to uphold me, God's wisdom to guide me, God's eye to look before me, God's ear to hear me, God's word to speak for me, God's hand to guard me, God's way to lie before me, God's shield to protect me, God's hosts to save me From snares of the devil, From temptations of vices, From every one who desires me ill, Afar and anear, Alone or in a mulitude.
Day 6:
I summon today all these powers between me and evil, Against every cruel merciless power that opposes my body and soul, Against incantations of false prophets, Against black laws of pagandom, Against false laws of heretics, Against craft of idolatry, Against spells of women and smiths and wizards, Against every knowledge that corrupts man's body and soul. Christ shield me today Against poison, against burning, Against drowning, against wounding, So that reward may come to me in abundance.
Day 7:
Christ with me, Christ before me, Christ behind me, Christ in me, Christ beneath me, Christ above me, Christ on my right, Christ on my left, Christ when I lie down, Christ when I sit down, Christ in the heart of every man who thinks of me, Christ in the mouth of every man who speaks of me, Christ in the eye that sees me, Christ in the ear that hears me.
Day 8:
I arise today Through a mighty strength, the invocation of the Trinity, Through a belief in the Threeness, Through a confession of the Oneness Of the Creator of creation
Day 9:
St. Patrick, thank you for your prayers for my intention in this novena. I trust that our Lord will answer them through your intercession.
Concluding Prayer for each day
V. Pray for us, O glorious saint Patrick. R. And obtain for us the intention of this Novena.
---
👉 Pray the St. Patrick Novena with the Pray app 👈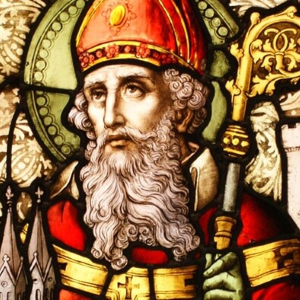 The Life of St. Patrick
Saint Patrick lived in the fifth century in England and Ireland, which he converted to the Catholic Faith from paganism.
Patrick was born in Britain around 387 AD. Britain at the time was part of the Roman Empire. His father was named Calpurnius and was a deacon of the Church, as well as a commander of cavalry in the Roman army.
In spite of his father, Patrick did not actively practice his Catholic faith.
St. Patrick Enslaved
At age 16, he was kidnapped by pirates, who sold him into slavery in Ireland. During this difficult time, Patrick was given the grace of repentance, deep conversion, and prayer. He was a shepherd, which afforded him long hours every day to pray to God and meditate.
After six years in slavery, God told him to start walking to the coast, which was a few hundred miles away, and there a ship would be waiting for him. Patrick obeyed without question, and when he arrived he found a ship in the port. The captain of the ship did not want to take him, but God miraculously intervened, and the captain relented and let Patrick onboard.
When they arrived back in Britain, the crew and Patrick walked for 28 days through the British wilderness, eventually running out of provisions and growing weak with hunger. Patrick prayed, and God miraculously sent them a herd of wild pigs, saving their lives.
St. Patrick Becomes a Missionary
Patrick made it back to his own family after some period of time. But shortly thereafter, he received a vision to return to Ireland, this time as a missionary of Christ and His Church, to "walk among" the Irish people again.
Patrick studied for the priesthood in Auxerre, in Europe, and St. Germanus of Auxerre ordained him a priest. He was eventually ordained a bishop as well.
Patrick followed God's call and returned to to Ireland as missionary. After some traveling, he met a chieftain who was willing to receive him and the Catholic Faith, and the first seed of Christianity took root in the pagan soil.
Patrick's converts grew into disciples, and these faithful became missionaries along with him to their Irish homeland. He ordained many priests, and whole families and tribes became converted to the Faith.
The country of Ireland abandoned their Celtic paganism and embraced Catholicism.
Saint Patrick's Day is observed on March 17th, the date of his death.
More Resources on St. Patrick
Children's Book on St. Patrick
Tomie dePaola, the prolific children's book author, has a delightful book on St. Patrick's life.
I have read it to my children countless times, and they enjoy the pictures in the book as well.
St. Patrick Animated Children's Movie
We also enjoy showing to our children the animated movie on St. Patrick, produced by CCC America.
This company has many animated movies on Catholic saints, and every one of them that we have bought or watched are well done and faithful.