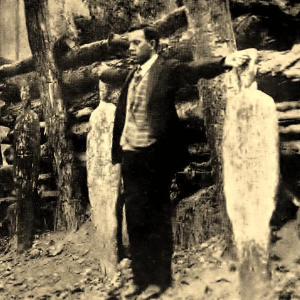 Blessed Miguel Agustin Pro was a Mexican Jesuit priest executed under Plutarco Elías Calles on false charges. He was killed in odium fidei (in hatred of the Catholic Faith) and thus is recognized as a martyr.
Read the full Blessed Fr Miguel Agustin Pro novena on the novena page. You can also learn more about novenas here.
What Was Blessed Miguel Pro Known For?
José Ramón Miguel Agustín Pro Juárez was born on January 13th, 1891 in Guadalupe, Mexico.
His family affectionately called him Miguelito (little Miguel), and Miguel evinced piety and faith from an early age.
Miguelito also though had a humorous side and would pull pranks on his family.
Through his older sister, who entered religious life, Miguel discovered his call to the priesthood and entered the Jesuit Novitiate in 1911.
But the anti-Catholic forces were gathering in Mexico, and in 1914, the Jesuit house had to be abandoned. Miguel and the other novices fled to the U.S. (Texas and New Mexico, ultimately to California).
Miguel was able to continue his formation in Spain in 1915, and then he was ordained to the priesthood in Belgium in 1925.
By this time, the anti-Catholics in Mexico were causing massive harm and persecution, but Fr Miguel wanted to return to his homeland, and he was allowed to.
Catholic parishes were forcibly closed and priests went underground. Accordingly, Fr Miguel ministered to faithful Catholics secretly, often wearing disguises.
The authorities falsely accused him of attempting to assassinate a former Mexican president, and he was betrayed to the police then sentenced to death without due legal process.
Fr Pro bravely stood before his executioners crying out, Viva Cristo Rey (Long live Christ the King), the noble cry of the Cristeros. He declined to put on the blindfold and faced the firing squad directly.
He was martyred on November 23rd, 1927.
He was beatified by Pope John Paul II on September 25th, 1988.