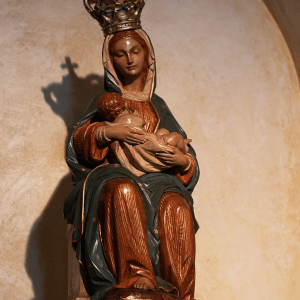 Our Lady of La Leche is title of the Blessed Virgin Mary originating from an ancient statue of her breastfeeding the infant Jesus. She is also known as Our Lady of Childbirth, of a Happy Delivery, of Maternity.
Read the full Our Lady of La Leche novena on the novena page. You can also learn more about novenas here.
What is the Our Lady of La Leche prayer for a healthy pregnancy?
Our Lady of La Leche is one of the oldest devotions to the Blessed Virgin Mary.
Catholics in Roman times depicted Our Lady nursing the infant Jesus on the walls of the Catacombs where they had Mass.
Catholics have prayed to Our Lady of La Leche to conceive a child and for a healthy pregnancy and delivery.
Spaniards especially revived this devotion in the 1500s prior to immigrating to the New World, where they carried the devotion to what is now the United States (beginning in St Augustine, Florida) as well as Latin America.
The shrine they built in St Augustine was a copy of the one in Madrid, Spain commissioned by King Philip II in the early 1600s.
It was providential that it was built, since the Communist forces destroyed the original Spanish shrine in Spain's Civil War in 1937.
The National Shrine of Our Lady of La Leche is the oldest Catholic shrine in the United States, and in 2021, Pope Francis canonically crowned it.