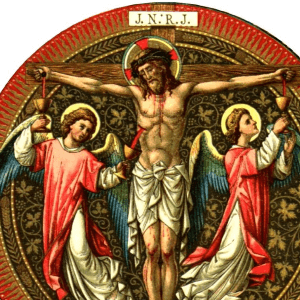 The Blood of Jesus, shed for our salvation, has long been a focal point of the Church's devotion. Christ's Blood signifies His Covenant with us, His great love for us, and reminds us that He alone can save us.
Read the full Precious Blood novena on the novena page. You can also learn more about novenas here.
What is the Precious Blood of Jesus?
In the early 1800s, the Church brought into common usage the devotion to the Precious Blood of Jesus through the efforts of Saint Gaspar del Bufalo.
This feast was removed from the Roman Calendar in 1969, because the Most Precious Blood of Christ the Redeemer is already venerated in the solemnities of the Passion, of Corpus Christi, of the Sacred Heart of Jesus, and in the feast of the Exaltation of the Holy Cross.
But the Mass of the Most Precious Blood of Our Lord Jesus Christ is still placed among the votive Masses.
Removal of the feast from the General Calendar, however, does not prevent the faithful from praying this novena, nor does it diminish the importance of Christ's Precious Blood.