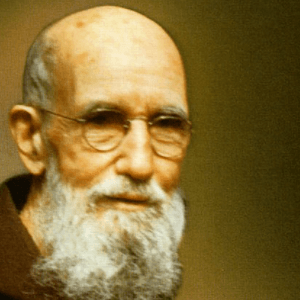 Blessed Solanus Casey was an American Capuchin Franciscan priest who lived from the late 1800s to mid-1900s and demonstrated great humility and love for others in spite of many setbacks and obstacles he faced throughout his life.
Read the full Blessed Solanus Casey novena on the novena page. You can also learn more about novenas here.
Who Was Blessed Solanus Casey?
Bernard Casey was born to an Irish immigrant family on November 25th, 1870.
He grew up on the family farm in Wisconsin with his many brothers and sisters, and once he became an adult, he worked as a lumberman, in a hospital and in a prison, as well as a streetcar operator.
After witnessing an assault in the city, he was moved to go to seminary and study for the priesthood. The seminary was German-speaking, which he had trouble with, so he switched to discern with the Capuchin Franciscans in Detroit.
In 1897 he was given the religious name Solanus.
The Capuchins also primarily spoke German, so he had trouble in his seminary studies there, and when he was ordained in 1904 his superiors made it where he was not allowed to hear Confession or preach theological sermons.
He spent the next twenty years in different parts of New York City.
He was then moved to St Bonaventure Monastery in Detroit, where he served as doorman and became known for his kind concern and love for every person he met.
Over time, many people began to seek him out for his wisdom and thoughtfulness. Some also thought he had the gift of healing.
He died in Detroit at the age of 86 on July 31st, 1957 and is buried at St. Bonaventure Monastery.
He was beatified on November 18th, 2017.