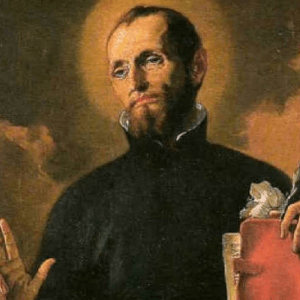 St Cajetan was an Italian Catholic priest and religious reformer, co-founder of the Theatines. He worked to reform the Church internally during the time of the Protestant Revolt.
Read the full St Cajetan novena on the novena page. You can also learn more about novenas here.
Who Was Saint Cajetan?
Saint Cajetan was born Gaetano dei Conti di Thiene on October 6th, 1480.
He was ordained to the priesthood in 1516, on the eve of the Protestant Revolt.
He founded a hospital in Vicenza in 1522 for terminally ill patients, and the next year established another one in Venice.
He joined a confraternity in Rome called the "Oratory of Divine Love" and worked to build a new religious community that would combine a monastic spirit with apostolic ministry.
In 1524, Pope Clement VII approved the Theatine congregation, named after the city of Chieti (in Latin, Theate).
St Cajetan started a bank to help the poor so that they would not be charged usurious interest rates and became known for his reforming efforts within the Church and civil society.
St Cajetan died in Naples on August 7th, 1547.
He was beatified on October 8th, 1629, by Pope Urban VIII. He was canonized April 12th, 1671, by Pope Clement X.
His feastday is August 7th.
He is the patron saint of bankers; unemployed people; workers; gamblers; document controllers; job seekers; Albania; Italy; Ħamrun (Malta); Argentina; Brazil; El Salvador; Guatemala; Labo, Camarines Norte, Philippines