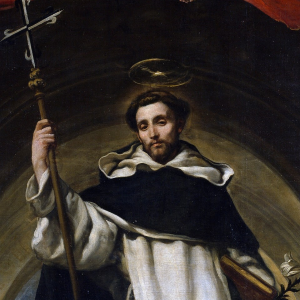 Saint Dominic was a Castilian priest and founder of the Dominican Order, known as the Order of Preachers. Our Lady gave St Dominic the Holy Rosary.
Read the full St Dominic novena on the novena page. You can also learn more about novenas here.
What Is Saint Dominic Known For?
Saint Dominic was a Castilian priest and founder of the Dominican Order, known as the Order of Preachers. Our Lady gave St Dominic the Holy Rosary. Pray this novena for greater eloquence or for defense against being falsely accused, as well as for greater devotion to Our Lady.
St Dominic was born in Caleruega, Spain in 1170, to a family of Spanish nobility. His mother, Blessed Joan of Aza, was incredibly devout.
His mother made a pilgrimage when Dominic was in utero, and she had a dream of a dog leaping from her womb with a torch in its mouth. This dog "set the earth on fire," so his parents named him Dominic after the Latin phrase "Domini canis" meaning the Lord's dog.
Dominic studied theology in Palencia and excelled in his learning.
When a famine struck in 1191, Dominic sold all his worldy possessions and bought food for the hungry.
He also sold his theological manuscripts (like our modern day textbooks), and he said: "Would you have me study from these dead skins when people are dying of hunger?"
He also tried to sell himself into slavery to the Moors (Muslims) to obtain the freedom of others. (Many Redemptorist Order priests did this as well.)
Dominic joined the Benedictine Order in 1194. He eventually became the Superior of his chapter.
Pope Innocent III asked St Dominic to go to Languedoc in southern France to combat the vicious Albigensian heretics and bring them back to the Catholic Faith.
The Albigensian heresy encouraged the suicide of its members and claimed the body and all material things were evil. The heretics lived in austerity and so appealed to many as being credible and holy, especially against the more indulgent Catholic religious communities of the time.
St Dominic though was himself an ascetic and followed a holy self-denial. Many Albigensians were drawn to his authenticity through this.
Dominic debated the heretic leaders and defeated their arguments handily every time.
His eloquence defense of the truth could not be resisted or overcome.
The heretics made threats against St Dominic, but he trusted in God and continued traveling over the region, converting the Albigensians back to the Faith.
In 1214, Our Lady appeared to St Dominic and gave him the Marian Rosary.
In 1215, St Dominic formed his own religious order, the Order of Preachers (the Dominicans), a mendicant or begging Order that would be supported through alms (donations).
Six men joined him, and they followed a Rule of Life that included discipline, prayer, and penances.
They became educators in the land and traveled around preaching.
Pope Honorius III confirmed St Dominic's Order on December 22, 1216.
In July 1221, St Dominic became sick with a fever. He made his final Confession and died on August 6 at 51 years of age.
Pope Gregory IX canonized St Dominic on July 13, 1234. His feast day is August 8.
St Dominic is the patron saint of astronomers, the innocent who are falsely accused of crimes, and the Dominican Republic.