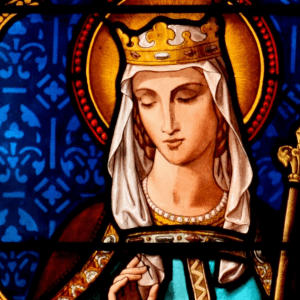 St Elizabeth of Hungary was a thirteenth century royal of Hungary who married, had children, and devoted herself to God and service of the poor. When her husband died she chose a celibate life, built a hospital, and served the needy there.
Read the full St Elizabeth of Hungary novena on the novena page. You can also learn more about novenas here.
Who Was Saint Elizabeth of Hungary?
St Elizabeth of Hungary was born on July 7th, 1207 to the King Andrew II of Hungary and Gertrude of Merania.
Her father the king arranged a marriage from her from early childhood. She was sent to the court of the Landgrave of Thuringia to educate and prepare her for her royal life.
Tragically, St Elizabeth's mother was murdered when Elizabeth was six years old. Elizabeth turned to God in prayer and grew in devotion to God.
In 1221, she married Ludwig in an arranged marriage. But happily, Elizabeth loved him, and the couple had three children together.
Even though she was royalty, Elizabeth adopted an ascetic life and gave herself to charitable works for the poor.
Elizabeth began to learn from Franciscan friars, who had recently been founded by St. Francis, and she wanted to emulate his way of life.
Her husband died of illness at an early age in 1227, and St Elizabeth vowed to live like a celibate nun for the rest of her life.
St Elizabeth became a Third Order Franciscan, founded a hospital, and worked tirelessly at it to help those in need.
Elizabeth died at the young age of 24, on November 17th, 1231.
Pope Gregory IX canonized her on May 27th, 1235.
St. Elizabeth's feast day is celebrated on November 17th.
She is the patron saint of bakers, beggars, brides, charities, death of children, homeless people, hospitals, Sisters of Mercy, and widows