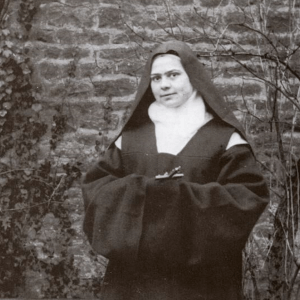 St Elizabeth of the Trinity was a Discalced Carmelite nun who followed in the footsteps on St Therese of Lisieux. She died at an early age but embraced her mission to lead souls to deep devotion to God.
Read the full St Elizabeth of the Trinity novena on the novena page. You can also learn more about novenas here.
Who Was Saint Elizabeth of the Trinity?
St Elizabeth of the Trinity was born at a military base in France in July of 1880, but her father died when she was just seven years old, and her family moved to Dijon.
They lived near the city's Carmelite monastery, and when she was 17 years old and visited the Carmel, the mother superior had her read a letter from St Therese of Lisieux, which would become St Therese's famous book, The Story of a Soul.
Elizabeth went from being a hot-tempered child to a mature young woman who believed God was calling her to contemplative life.
After some delay (not unlike St Therese herself), Elizabeth entered the Carmel in 1901. She died just five years later in 1906 from Addison's disease. Like St Therese, she only lived to her mid-twenties.
St Elizabeth wrote several works as a Carmelite nun, influenced especially by St Therese's writings on God's merciful love.
Her mission was to lead souls to God so they could have a deep spiritual life with Him.
Pope John Paul II beatified her on November 25th, 1984. Pope Francis canonized her October 16th, 2016.
Her feastday is November 9th.
She is the patroness of sick people, against bodily ills, against the death of parents, and against illness.