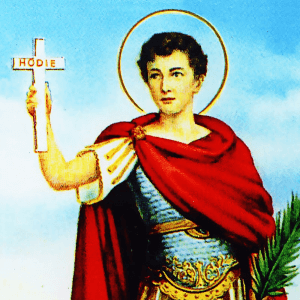 St Expeditus (also known as St Expedite), was a Roman centurion and Catholic convert in Armenia martyred under Diocletion in 303.
Read the full St Expeditus novena on the novena page. You can also learn more about novenas here.
Who Was Saint Expeditus?
St Expeditus is the patron saint of urgent causes, emergencies, lawsuits, expeditious solutions, against procrastination, merchants, navigators, sailors, students, programmers, and hackers.
Expeditus was born in Armenia and is a martyr, though not much else is definitively known about him.
One martyrology says that he was one of six Roman soldiers executed under Diocletian at Melitene.
Devotion to St Expeditus started in Turin, Italy during the Middle Ages and grew in the eighteenth century.
Legend has it that when Expeditus converted to Christianity, Satan took the shape of a crow and told St Expeditus to delay his conversion until tomorrow.
Expeditus stomped on the crow, killing it and saying, "I'll be a Christian today!"