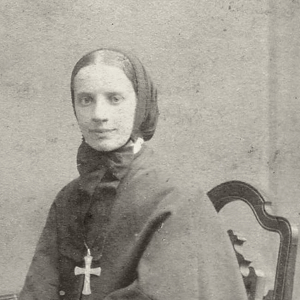 St Frances Xavier Cabrini was an Italian-American nun and foundress of the Missionary Sisters of the Sacred Heart of Jesus. Her community was dedicated to helping Italian immigrants to the U.S.
Read the full St Frances Xavier Cabrini novena on the novena page. You can also learn more about novenas here.
What Is Saint Frances Cabrini Known For?
Maria Francesca Cabrini was born on July 15th, 1850 in Sant' Angelo Lodigiano in Lombardy, Italy.
She was the youngest of thirteen children and born premature, suffering from frail health throughout her life.
Francesca was taught by the Daughters of the Sacred Heart and wanted to enter that community at age 18, but due to her fragile health was denied.
But a priest invited her to teach at an orphanage in Cadagono, Italy, which she did for six years. In the process, young women congregated to her, forming a fledgling community.
In 1877, she took religious vows, became Mother Cabrini and also included Xavier in her religious name in honor of St Francis Xavier.
Her bishop requested that Mother Cabrini found the Missionary Sisters of the Sacred Heart and dedicate themselves to serving needy children in hospitals and in schools.
After five years of leading this institute, Pope Leo XIII invited her to move to the United States to aid the large and growing number of Italian immigrants
Mother Cabrini obeyed the Holy Father, and on March 31st, 1889, she arrived in New York City with six of her sisters.
After various setbacks and obstacles, Frances founded an orphanage (now known as St Cabrini Home) in New York.
Gifted with administration, Frances founded 67 schools, orphanages, and hospitals, primarily helping Italian immigrants but also others in need.
Saint Frances Cabrini is known for her service to the poor, especially to children and immigrants.
In 1909, Frances became an American citizen, and on December 22nd, 1917, she died at age 67.
God worked multiple miracles through her intercession, restoring child's sight and healing a terminally ill nun of her congregation.
St. Frances Xavier Cabrini was beatified on November 13th, 1938, by Pope Pius XI. She was canonized by Pope Pius XII on July 7th, 1946.
She was the first United States citizen to be canonized.
Her feast day is celebrated on November 13th.