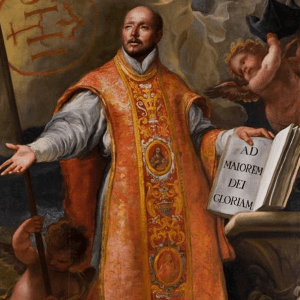 St Ignatius of Loyola founded the Society of Jesus in the 1500s. After a military career he became devout and developed his famous Ignatian spiritual exercises for growing closer to God.
Read the full St Ignatius Loyola novena on the novena page. You can also learn more about novenas here.
Who Was Saint Ignatius of Loyola?
St Ignatius of Loyola was born Inigo Lopez in 1491 in Spain.
Inigo was the youngest of his twelve siblings, and sadly his mother died when he was seven years old. Because of this, he was raised by Maria de Garin, the wife of the town's blacksmith.
He was of an aristocratic family and desired to be a leader of men, entering into the military and bravely fighting in many battles.
At this point in his life, he was not devout, but in 1521 while defending Pamplona, Spain against the French and Navarrese, a cannonball struck his leg, causing massive injury.
Ultimately they had to rebreak the bones and remove part of his leg, resulting in a permanent limp and the end of his military career. His condition became so bad that doctors feared he would die.
But on the feast of Sts Peter and Paul, he turned the corner and began to heal. He then read spiritual works and God moved his heart to conversion.
He read the lives of the saints and The Life of Christ story, which placed the reader inside the Gospels. This practice would heavily influence Ignatius' famous spirituality and exercises.
Ignatius began to desire to convert non-Christians to the Catholic Faith, and after he recovered in 1522, he went to a Benedictine monastery and laid himself before an image of Our Lady, offering himself to God.
He worked at a hospital, was a mendicant begging for his food, and would pray for long periods of time in solitude.
In 1523 he visited the Holy Land, hoping to remain there and convert people to the Catholic Church, but it was not the right fit, and he returned to Spain.
He began to study and go to school again, realizing he needed to have a greater depth of learning to effectively lead people to Christ and His Church.
While studying, Ignatius engaged people in debate, which raised the concern of the Inquisition.
He was investigated multiple times but never found to be committing heresy. Ignatius went on to graduate education and earned a master's degree in his mid-40s.
While in graduate school in Paris, Ignatius became friends with Francis Xavier and Peter Faber. They joined him in his spiritual exercises and they became known as Friends in the Lord.
The men went to Rome and requested recognition from the Pope.
Pope Paul III approved them as an official religious order in 1540. They named themselves the Society of Jesus, and their opponents derisively called them the "Jesuits" in an attempt to discredit them. Eventually the name lost its negative associations and stuck.
The Society of Jesus became famed for education, arming Catholics with reason and helping to combat Protestant heresies.
Ignatius died on July 31st, 1556, at age 64.
He was beatified by Pope Paul V on July 27th, 1609 He was canonized by Gregory XV on March 12th, 1622.
His feast day is July 31.
He is the patron saint of the Society of Jesus, soldiers, educators and education.