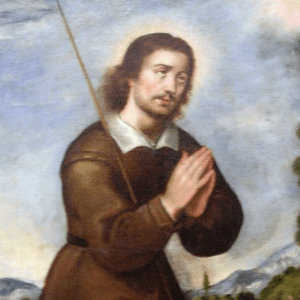 St Isidore the Farmer was a humble Spanish farm laborer whose humility led to many miracles from God. God sent His angels to plough the field on St Isidore's behalf while he prayed.
Read the full St Isidore the Farmer novena on the novena page. You can also learn more about novenas here.
Who Was Saint Isidore the Farmer?
St Isidore was born around 1070 at Madrid, Spain, to a poor family.
He was a farm laborer and devoted to God. St Isidore shared all he had with the poor.
Isidore married Maria Torribia, herself popularly known as a saint (St Maria de la Cabeza), though not yet canonized.
Many miracles were attributed to his prayers. The couple's son fell into a well, but after their prayers, the water rose and brought him to safety.
Our Lord gave him visions and sent His angels to help him in his farm work.
One story holds that his fellow laborers complained that he arrived late due to his prayers. But when their master investigated, he found Isidore in prayer and angels ploughing the fields on his behalf!
The Church made him the patron of the National Rural Conference in the United States in 1947.
Isidore died either in 1130 or 1172, conflicting dates exist for it.
Feastday: May 15 Patron: of National Rural Conference in the United States Birth: 1070 Death: 1130 Beatified: May 2, 1619, Rome by Pope Paul V Canonized: March 12, 1622, Rome by Pope Gregory XV Patron of: farmers, peasants, day laborers and agriculture in general, as well as brick layers