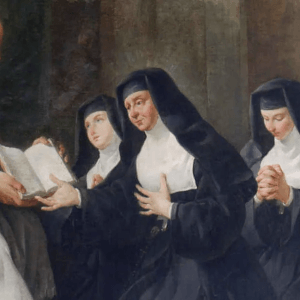 St Jane Frances de Chantal was a French Catholic noblewoman who was married, widowed, and then became a nun. She founded the Order of the Visitation of Holy Mary and was dedicated to the sick.
Read the full St Jane Frances de Chantal novena on the novena page. You can also learn more about novenas here.
Why is St Jane Frances de Chantal a Saint?
St Jane Frances was born Jeanne-Françoise Frémyot on January 28th, 1572, in Dijon, France to a noble family, but her mother died when she was just 18 months old.
At age 20, she became a Baroness by marrying the Baron de Chantal.
Their first two children died as young babies. Then her older sister died, and she took care of her three children.
She and her husband had one son and three daughters, but in 1601, when she was 28 years old, her husband was killed while hunting.
She made a vow of chastity at that time, and a few years later she heard St Francis de Sales (then bishop of Geneva) preach Lenten sermons. St Francis de Sales then became her spiritual director.
Jane Frances, with de Sales's help, founded the Congregation of the Visitation, which was unique in taking in women as nuns even if they were in poor health or were older.
The congregation used the Little Office of the Blessed Virgin Mary.
Her order was also unique in that they were active and took care of the sick, though most female orders were cloistered at this time.
The order flourished and had 86 houses when St Jane Frances died at age 69, on December 13th, 1641.
Notably, St Vincent de Paul served as her spiritual director after St Francis de Sales's death.
St Jane Frances de Chantal was beatified on November 21st, 1751, by Pope Benedict XIV. St Jane Frances de Chantal was canonized on July 16th, 1767, Rome by Pope Clement XIII.