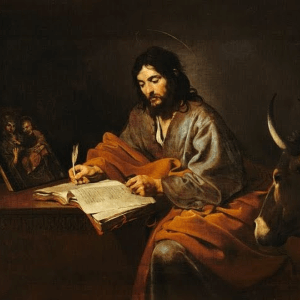 St Luke the Evangelist wrote one of the four Gospels, along with the Acts of the Apostles. He was a physician and Gentile convert to the Faith.
Read the full St Luke novena on the novena page. You can also learn more about novenas here.
What Is St Luke the Patron Saint For?
St Luke the Evangelist is the patron saint for artists, bachelors, physicians, surgeons, farmers, and rhetoricians.
St Paul in Colossians 4:14 tells us that St Luke is the beloved physician.
Luke was born a Greek Gentile, not a Jew, and so was a convert to the Christian Faith.
Luke's Gospel focuses on the evangelization of Gentiles. For instance Jesus tells the stories of the Good Samaritan and the widow of Zarephath.
St Luke joined St Paul's company at Troas sometime around 51 AD, and he traveled with him from there for quite some time.
St Paul was imprisoned, but St Luke remained free and evangelized in Philippi. Later, around 58 AD, they reunited and evangelized together again.
St Paul then reveals that only Luke stayed with him for his final imprisonment prior to his execution.
Luke tells several unique stories in the Gospel he wrote, including Lazarus and the rich man, as well as the Prodigal Son.
Luke also gives us essential Marian perspective with Mary's Magnificat, the Presentation, the Visitation, the Annunciation, and the Finding of the Child Jesus in the Temple.