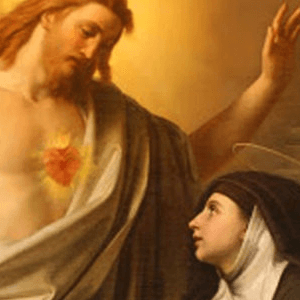 St Margaret Mary Alacoque was a French Catholic nun and mystic who promoted devotion to the Sacred Heart of Jesus. Christ appeared to her throughout her life but it was only after her death that devotion to the Sacred Heart spread.
Read the full St Margaret Mary novena on the novena page. You can also learn more about novenas here.
Who Was Saint Margaret Mary Alacoque?
Margaret Alacoque was born in 1647 in France. Even from a young age, Margaret loved Jesus in the Blessed Sacrament and spent hours in silent meditation before our Lord.
She became sick with rheumatic fever and for four years was bedridden, but she consecrated herself to Our Lady with a vow that she would enter religious life, and God miraculously cured Margaret instantly.
In honor of our Lady, St Margaret added the name Mary to her name.
Christ gave visions of Himself to St. Margaret Mary throughout her life, and at age 17, after she attended an evening ball, Christ appeared to her in His Passion and told her she had forgotten Him and her promise.
Margaret was chastened and entered the Visitation Convent at Paray-le-Monial in May of 1671.
As a nun, Margaret saw visions of the Sacred Heart of Jesus, showing her what the devotion should look like, in particular the reception of Holy Communion on first Fridays, Eucharistic Adoration on Thursdays, and celebrating the Feast of the Sacred Heart.
Christ appeared to St Margaret Mary again in December of 1673, where he let her rest on His Heart. Jesus told her that she must make the wonders of his love known to everyone in the world.
Her fellow nuns and even several theologians did not believe that Jesus appeared to her, but the nuns' Confessor, the great St Claude de la Colombiere, SJ, believed her and won over all others. (Side note: I highly recommend the book, Trustful Surrender to Divine Providence, written by St Claude de la Colombiere.)
St Margaret Mary died at the age of 43, on October 17th, 1690. At her death she said: "I need nothing but God, and to lose myself in the heart of Jesus."
Following St Claude, the Jesuits became devoted to the Sacred Heart, but it would take three-quarters of a century for the Church universal to adopt the devotion.
Feastday: October 16 Patron: of those suffering with polio, devotees of the Sacred Heart, loss of parents Birth: July 22, 1647 Death: October 17, 1690 She was beatified on September 18th, 1864, Pope Pius IX She was canonized on May 13th, 1920, by Pope Benedict XV