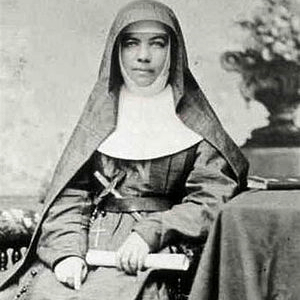 St Mary MacKillop, known as St Mary of the Cross, was an Australian religious sister and founder of the Sisters of St Joseph of the Sacred Heart (the Josephites). She established schools and helped the rural poor and needy in Australia and New Zealand.
Read the full St Mary MacKillop novena on the novena page. You can also learn more about novenas here.
What was Saint Mary MacKillop famous for?
St Mary of the Cross was born Mary Helen MacKillop on January 15th, 1842, in Melbourne but spent most of her life in South Australia. Her family was poor and had a farm.
At age 14, to earn money for her family's needs, she worked as a clerk and then governess for her relatives.
She met Fr. Woods and eventually started a boarding school for children. Fr. Woods then asked she and her sisters to start another Catholic school in Penola.
Mary desired to serve God as a religious and began wearing black and using the name Sister Mary of the Cross. Many women followed her and joined her mission, and they became a fledgling religious order (the Josephites).
Her community founded another school at the invitation of the bishop, the first such religious institution started by an Australian.
Their order grew and expanded to over 100 nuns and scores of institutions that served and educated the needy.
Some priests disliked the Josephites and Sister Mary and so they conspired against them. They demanded that they change their religious community's constitution, which would threaten its very existence. Sister Mary did not think those demands were from God and did not obey them, resulting in Bishop Shell excommunicating her.
This action greatly harmed the Josephites and their mission, resulting in their institutions being closed.
Upon his death, Bishop Shell lifted the excommunications, and Mary was absolved and then exonerated by an ecclesial commission.
In 1873, Mary MacKillop sought Pope Piux IX's approval for their congregation and a few years later it was granted.
After more struggles with clergy and health, MacKillop died on August 8th, 1909 in the Josephite convent in North Sydney.
The Church recognized that Veronica Hopson, dying of leukemia in 1961, was cured by praying for MacKillop's intercession.
St Mary MacKillop was beatified on January 19th, 1995 by Pope John Paul II. St Mary MacKillop was canonized on October 17th, 2010 by Pope Benedict XVI, the first Australian saint.