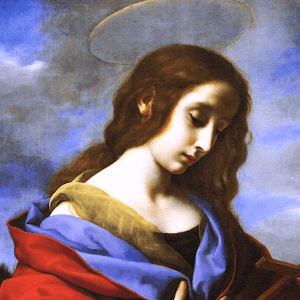 St Mary Magdalene was one of Jesus' closest followers and earliest disciples. He drove seven demons out of her, and she converted to Him, leaving her sinful life.
Read the full St Mary Magdalene novena on the novena page. You can also learn more about novenas here.
Who Was Saint Mary Magdalene?
St Mary Magdalene was a contemporary of Our Lord Jesus Christ.
She became his disciple and followed Him in his public ministry. She was present at His death and Resurrection.
It is not clear whether she was a prostitute, or whether her sins, while serious, were of a different nature.
Nonetheless, when Christ met her, He drove out seven demons, and she immediately followed Him afterwards.
Mary visited Christ's tomb when He rose from the dead and Scripture records her as the first person to realize Christ was Resurrected.
Tradition says that after Christ's death, she was exiled by the Jews and ended up in France, living out a life of prayer in solitude.
Her feastday is July 22nd.
She is the patroness of contemplative life, converts, glove makers, hairdressers, penitent sinners, people ridiculed for their piety, perfumeries, pharmacists, sexual temptation, tanners, women