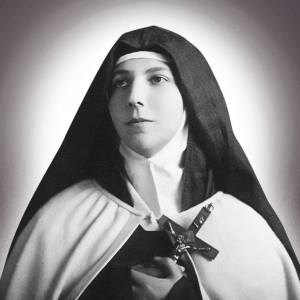 St Teresa of Jesus of Los Andes was a Discalced Carmelite nun and the first canonized Chilean saint. She was known as the Flower of the Andes, was inspired by St Therese the Little Flower, and she died just one year after entering religious life at age nineteen.
Read the full St Teresa of the Andes novena on the novena page. You can also learn more about novenas here.
What is St Teresa of the Andes known for?
St Teresa of the Andes was born Juana Enriqueta Josephina de Los Sagrados Corazones Fernández Solar, on July 13th, 1900, in Chile.
She was faithful and devout from an early age but also could be volatile with her temper and battled pride and vanity.
In spite of these faults, she persevered in charity and by God's grace overcame them, resolving to become a nun.
She took a private vow of chastity and age fourteen and began seeking to enter Carmel at age seventeen. Two years later she would be allowed to, and then just one year later she died of typhus after God told her that she would die soon.
St Teresa was allowed to make her final profession with the Carmelites before her death, knowing that she would not survive long.
St Teresa died on April 12th, 1920
St Teresa of the Andes was beatified on April 3rd, 1987, in Santiago, Chile by Pope John Paul II. St Teresa of the Andes was canonized on March 21st, 1993, in St Peter's Square, also by Pope John Paul II.