Starts: January 12th
Feastday: January 21st
👉 Pray with the Pray Catholic Novena app 👈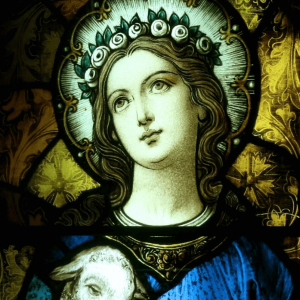 Introduction
Virgin and martyr, St. Agnes was born around 290 AD to a faithful Catholic family.
Agnes was a lovely girl and was sought for marriage by many pagan noblemen. But Agnes had vowed her virginity to God and taken Christ as her spouse, so she refused all invitations to marriage.
One of the men she refused marriage to became enraged and told the authorities that she was a Christian. The authorities captured her and tried to tempt her to break her vows and marry, but she would not.
They then took her to a house of ill repute, but God miraculously intervened and protected her from the assaults of the men there. The authorities were divinely foiled in attempts to execute St. Agnes, but finally succeeded on January 21, 304 AD.
Her bones are preserved beneath the high altar of Sant'Agnese fuori le mura in Rome, and her skull in the church of Sant'Agnese in Agone in Rome's Piazza Navona.
She is the patroness of young girls, of purity, of rape survivors, of the Children of Mary.
Prayer
O glorious St. Agnes, by the living faith which animated thee from thy tender years and rendered thee so pleasing to God that thou did merit a martyr's crown: obtain for us the grace to keep our holy faith pure within us and to profess ourselves Christians in both word and work. May our open confession of Jesus before men cause Him to bear a favorable witness to us before His eternal Father.
O invincible Martyr, St. Agnes, by thy confidence in God's help, when being condemned by the Roman prefect to see the lily of thy purity stained and trampled in the mud, thou did not despair, still trusting firmly in God. We beseech thee by thine intercession to obtain for us from Almighty God the forgiveness of our sins and sure confidence that He will bestow upon us life everlasting and the means necessary to merit it.
O courageous maiden, St. Agnes most pure, by the burning love with which thy heart was on fire, and which preserved thee from harm in the midst of the flames of passion and of the stake with which the enemies of Christ sought to destroy thee. Obtain for us from Almighty God that every unclean flame may be extinguished in us and only the fire of Divine Love may burn within us. So that after spending a blameless life in practice of this virtue we may be worthy to have a share in the glory thou did merit by the purity of thy heart and thy glorious martyrdom. Amen. St. Agnes, virgin and martyr, pray for us.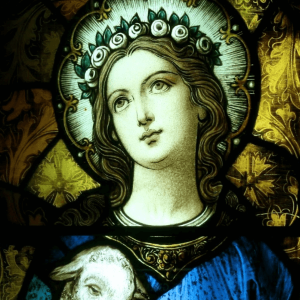 ---
Pray the novena easily via your smart phone with daily reminders so you never forget to pray using the Pray Catholic Novena app!