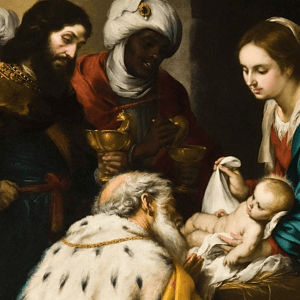 The Novena to the Magi in anticipation of Epiphany honors the wise men from the Gentiles who faithfully sought out the Christ Child near the time of His birth. Tradition holds that they returned home, converted to the Catholic Faith, and were later baptized by St Thomas the Apostle.
Read the full Epiphany Holy Magi novena on the novena page. You can also learn more about novenas here.
What is the Epiphany in the Gift of the Magi?
Balthasar, Melchior and Caspar are the names traditionally given to the Magi.
The Church considers them saints.
The Gospel of St Matthew in Matthew 2:1-2 relates that the Magi came from the east following a start to worship the King of the Jews.
While the gospel account does not say how many Magi there were, traditionally it is thought that there were three, since they gave three gifts: gold, frankicense, and myrrh.
Origen, an ancient Christian scholar, observed that the three gifts had profound symbolic meanings: gold for kingship, frankincense recognizing Christ's divinity, and myrrh as a symbol of Christ's death on the Cross.
After adoring Christ and giving their gifts, St Matthew describes that they returned to their home in the east by an alternate route, having been warned in a dream not to go back to Herod, who had deceptively told them that he also wanted to worship the new king.
Epiphany is celebrated immediately after the twelfth day of Christmas, commemorating Christ's manifestation as God Incarnate.