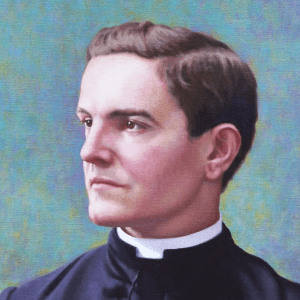 Blessed Fr. Michael McGivney was an Irish-American priest who founded the Knights of Columbus to serve immigrants and their families. He greatly aided the widows and orphans of his day.
Read the full Blessed Fr Michael McGivney novena on the novena page. You can also learn more about novenas here.
Who Was Fr Michael McGivney?
Blessed Fr. Michael McGivney was born on August 12th, 1852, in Connecticut, to an Irish Catholic immigrant family.
He was the eldest of thirteen children, but only seven survived past childhood.
His father worked in a brass mill in Waterbury, Connecticut.
Michael attended elementary school but at 13 years of age quit school to work in the brass mill.
He heard God's call to the priesthood, and he went to seminary in New York at the age of 16.
After his father died in 1873, Fr McGivney left the seminary to take care of brothers and sisters, before returning to St Mary's Seminary in Baltimore. He was ordained to the priesthood on December 22nd, 1877, by Archbishop James Gibbons.
McGivney realized the desperate plight of countless immigrant families who lost their fathers to accidents or disease.
He founded the Knights of Columbus, a fraternal organization, in 1882 as a mutual aid society, especially to give financial assistance to widows and orphans if their father died.
Fr McGivney was a priest for 13 years before contracting pneumonia and dying at age 38, on August 14th of 1890.
Pope Benedict XVI declared McGivney "Venerable" in March of 2008. On May 27, 2020, Pope Francis declared that McGivney would be beatified, which took place on October 31st, 2020.
One more miracle attributed to Fr. McGivney's intercession is required for his canonization as a saint.
The concluding prayer of this novena is from the Knights of Columbus and is prayer for Fr McGivney's canonization.