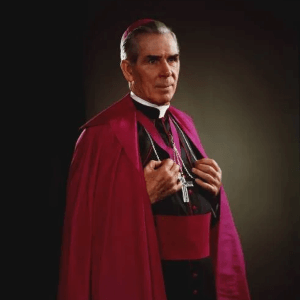 Venerable Fulton John Sheen was an American bishop who utilized television and radio to evangelize and catechize. His cause for canonization is ongoing.
Read the full Venerable Fulton Sheen novena on the novena page. You can also learn more about novenas here.
What is something significant about Fulton Sheen?
Fulton Sheen was born Peter John Sheen on May 8th, 1895 in El Paso, Illinois to an Irish family. Fulton was the nickname that his parents gave him, and it stuck for the rest of his life.
He was ordained to the priesthood for the Diocese of Peoria, Illinois, in 1919.
Sheen's keen intellect led him to teach philosophy and theology at Catholic University of America.
He was ordained bishop and became auxiliary bishop of the New York Archdiocese in 1951, and in 1966 he was appointed Bishop of Rochester, an assignment he remained at until he retired in 1969 once he turned 75 years old.
He became known all over the United States as the radio host of The Catholic Hour, and then as the television host of Life Is Worth Living, and then The Fulton Sheen Program.
All told, he spent 38 years of his life as a priest and bishop evangelizing through media.
Fulton Sheen died on December 9th, 1979.
Venerable Fulton Sheen's cause for canonization was opened in 2002, and ten years later Pope Benedict XVI confirmed that he had led a life of heroic virtue.
Then in 2019, Pope Francis approved a miracle through Fulton Sheen's intercession, which should have led to his beatification, but the Bishop of Rochester cautioned that investigations by secular authorities into the handling of sexual abuse in the diocese when Fulton Sheen was bishop might make beatifying him premature or inadvisable.
Because of this warning, Fulton Sheen's beatification has been indefinitely postponed.
However, no evidence exists that he handled any situation poorly. In fact the opposite is true.