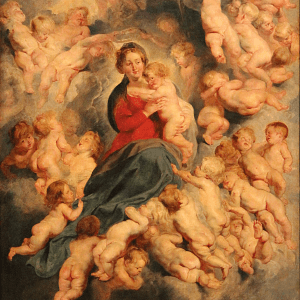 The Holy Innocents were the male children two years old and younger that lived near Bethlehem whom King Herod ordered to be slaughtered. This massacre was intended to kill the infant Jesus, but God warned St Joseph in a dream to flee with the Holy Family to Egypt, so they escaped.
Read the full Holy Innocents novena on the novena page. You can also learn more about novenas here.
Why Do We Celebrate Holy Innocents Day?
St Matthew records the Massacre of the Holy Innocents in Matt. 2:13-19.
13 And after they were departed, behold an angel of the Lord appeared in sleep to Joseph, saying: Arise, and take the child and his mother, and fly into Egypt: and be there until I shall tell thee. For it will come to pass that Herod will seek the child to destroy him.
14 Who arose, and took the child and his mother by night, and retired into Egypt: and he was there until the death of Herod:
15 That it might be fulfilled which the Lord spoke by the prophet, saying: Out of Egypt have I called my son.
16 Then Herod perceiving that he was deluded by the wise men, was exceeding angry; and sending killed all the men children that were in Bethlehem, and in all the borders thereof, from two years old and under, according to the time which he had diligently inquired of the wise men.
17 Then was fulfilled that which was spoken by Jeremias the prophet, saying:
18 A voice in Rama was heard, lamentation and great mourning; Rachel bewailing her children, and would not be comforted, because they are not.
19 But when Herod was dead, behold an angel of the Lord appeared in sleep to Joseph in Egypt,
Note that many modern biblical scholars and other historians think that the Massacre of the Holy Innocents is a myth.
They are of course, wrong.
Believe in God, who cannot deceive or be deceived, who inspired St Matthew to write exactly what happened.
St Bernard wrote that In Saint Stephen, we have both the act and the desire of martyrdom; in Saint John, we have but the desire; in the Holy Innocents we have but the act. So they are martyrs in deed but not in will, since they were killed before the age of reason.
Yet true martyrs who died not only for Christ, but in His stead, as St Augustine said.