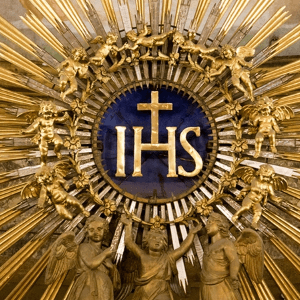 Since the time of the Apostles, the Church has reverenced the Holy Name of Jesus. Philippians 2:10 says, That in the Name of Jesus every knee should bow, of those that are in heaven, on earth, and under the earth.
Read the full the Holy Name of Jesus novena on the novena page. You can also learn more about novenas here.
How Do Your Pray the Holy Name of Jesus Novena?
Devotion to the Holy Name developed within the Church alongside devotion to His Sacred Heart.
The Litany of the Holy Name, included in this novena, arose in the 1400s with St Bernardine of Siena and St John of Capistrano.
The Church establisehd the Feast of the Holy Name of Jesus in 1530.
St Paul in Acts 4:10 wrote "Be it known to you all, and to all the people of Israel, that by the Name of our Lord Jesus Christ of Nazareth, whom you crucified, whom God hath raised from the dead, even by him this man standeth here before you whole."
So we see that God's inspired Scripture speaks about the Name of Jesus.
In the Middle Ages, Sts Anselm of Canterbury and Bernard of Clairvaux both encouraged devotion to the Holy Name of Jesus.