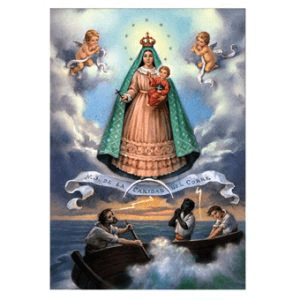 Our Lady of Charity, known also as La Vírgen de la Caridad del Cobre, is a title and image of Our Lady in Cuba. Three men discovered the image in the early 1600s while in a bay of Cuba, and she rescued them from a storm.
Read the full Our Lady of Charity novena on the novena page. You can also learn more about novenas here.
Who did Our Lady of Charity appear to?
Two Native Americans and a slave boy set out in the Bay of Nipe for salt for the slaughterhouse. A storm arose, and they prayed for protection, and they found a statue of the Virgin Mary with the Child Jesus and a golden cross.
A plaque attached to the statue read, I am the Virgin of Charity.
The miracle became known, and a chapel was built in the town in her honor.
Cubans grew in devotion to Our Lady of Charity and spread it wherever they went around the world (notably in Miami, Florida).
Pope Benedict XV named her the Patroness of Cuba in 1916.
A chapel of Our Lady of Charity is found at the Basilica of the National Shrine of the Immaculate Conception in Washington, D.C.
Pope Benedict XVI blessed a statue of Our Lady of Charity in 2008. The statue was enthroned at the Vatican Gardens in 2014 (and we can only hope that fact made some reparation against the Pachamama statue and ceremony in the Vatican Gardens in 2019).