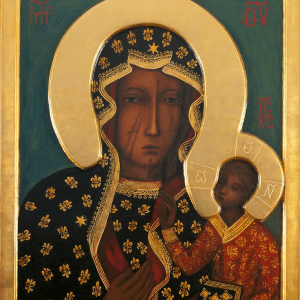 Our Lady of Czestochowa, also known as The Black Madonna of Częstochowa, is a miraculous image of the Virgin Mary in Poland, venerated by the Polish people in particular.
Read the full Our Lady of Czestochowa novena on the novena page. You can also learn more about novenas here.
Who Was Our Lady of Czestochowa?
Tradition holds that St Luke the Evangelist painted this image of Mary holding the Child Jesus. He did so on a cedar table at the house of the Holy Family.
Our Lady points to Christ with her right hand, showing us the way to Him.
This icon was brought from Jerusalem to Constantinople, given to the Princess of Ruthenia, and then carried to Poland in 1382 by Ladislaus of Opole.
Ladislaus commissioned the Monks of Saint Paul the First Hermit from Hungary to be the icon's guardians.
Since the 1400s, God has wrought many miracles through the painting, including saving the icon from total destruction in 1430, when the Protestant Hussites broke into the shrine and slashed the face of the Virgin Mary. The third time the invader tried to cut the image, he dropped dead on the spot. Those slashes are visible today.
The shrine and image also were preserved through the Swedish Invasion in 1655, resulting in even greater devotion of the Polish people to it.
In response, in 1656 King Jan Casimir declared that Our Lady of Czestochowa was the Queen and Protectress of Poland.
Several popes have recognized this icon:
Pope Clement XI issued the Canonical Coronation for the image through the Vatican Chapter on September 8th, 1717.
It is the third image to merit a decree of pontifical coronation outside of Rome after the Madonna of Trsat in Croatia and the Virgin of Mount Goritia in Slovenia.
Pope Pius X, after the crowns were stolen on October 23th, 1909, replaced the crowns on May 22th, 1910.

Pope St John Paul II gave another set of crowns as a native of Poland, and these were placed on August 26th, 2005.

Three popes have granted golden roses to the image, Pope St John Paul II in 1978, Pope Benedict XVI in 2006, and Pope Francis in 2016.