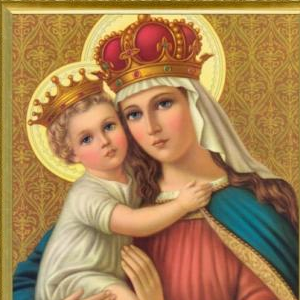 Our Lady of Good Health appeared to two boys in India the 16th century and saved a Portuguese merchant ship in the 17th century in India, where a chapel was then built in her honor.
Read the full Our Lady of Good Health novena on the novena page. You can also learn more about novenas here.
Where Is Our Lady of Good Health?
Our Lady of Good Health appeared to a shepherd boy named Tamil Krishnannesti Sankaranaranayam in Vailankanni, India around 1550 AD.
Our Lady asked the boy, who was delivering buttermilk, for some of his milk so that she could feed her child (Jesus). The boy gave her milk and went on his way.
When he delivered the rest of the milk, he apologized, explaining that there would be less milk than was ordered, but when he opened up the containers, the milk was completely full!
Some years later, Our Lady appeared again to a lame boy selling buttermilk. He was making no sales, but a beautiful woman appeared to him, holding a child, and asked for a cup of milk.
He gave her a cup; she fed her child (Jesus), and then Mary asked the boy to go to Nagapattinam and tell the man he would meet there to build a chapel in Vailankanni.
The boy realized that he was healed of his lameness, so he ran to the town, and the Catholic faithful built a small chapel in Vailankanni, in honor of Our Lady of Good Health.
In the 1600s, a terrible storm hit a Portuguese merchant ship sailing to Ceylon.
The sailors invoked Our Lady, Star of the Sea for help, and God calmed the seas for them.
When the ship landed around Vailankanni, the sailors saw the small chapel to Our Lady of Good Health and built an even bigger, stone chapel there.
Pope St. John XXIII made the chapel a minor basilica in 1962, calling it the Lourdes of the East and honoring the strong tradition of Catholics making pilgrimages there.