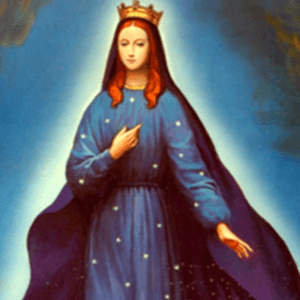 Our Lady of Hope, also known as Our Lady of Portmain, commerorates an apparition of the Virgin Mary during January of 1871 to several children during the Franco-Prussian war. Devotion to Our Lady under this title had been going on for over one thousand years in various places.
Read the full Our Lady of Hope novena on the novena page. You can also learn more about novenas here.
Who Is Our Lady of Hope?
The Prussians had advanced far into France during the war, and the town of Portmain was the next village likely to fall to the invaders.
Meanwhile, a smallpox epidemic and typhoid were ravaging the region, making it a very dark time.
But on January 17th, 1871, Mary appeared to four villagers in Pontmain, wearing a dark blue dress decorated with stars, a black veil over her head, and a golden crown atop it.
Our Lady gave them the message to have hope because God heard their prayers and would answer them.
Less than two weeks later, Prussian troops retreated and a treaty was signed ending the war.
Note that the faithful had been devoted to Our Lady of Hope for almost one thousand years prior to this apparition, with a shrine in Mezieres being named for this title from AD 930.
Feastday: January 17th