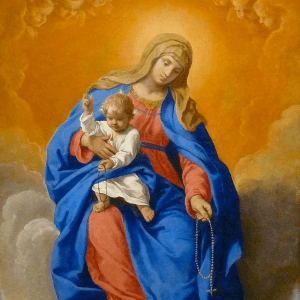 Our Lady of the Rosary (originally Our Lady of Victory) celebrates the miraculous naval defeat of the Turkish Islamic invaders in 1571 at the Battle of Lepanto. God granted this miracle through the Rosary, which the Pope led the people in praying.
Read the full Our Lady of the Holy Rosary novena on the novena page. You can also learn more about novenas here.
What Is the Story of Our Lady of the Rosary?
Pope Pius V rallied a coalition of Catholic European forces to protect Christendom in Europe against the impending Islamic invasion by the Ottoman Turks.
On October 7th, 1571, this alliance, called the Holy League, engaged the larger Ottoman fleet of ships in the famous Battle of Lepanto.
Outmanned and out-gunned, the Pope called for all Catholics to pray the Rosary for victory, and he led a procession in Rome while praying it.
Don Juan of Austria was made Admiral of the fleet and boldly led the defense against the naval attack. He was victorious, and freed over 10,000 Christians whom the Muslims had enslaved.
Prior to the battle, Don Juan had made a pilgrimage to a shrine of Our Lady of Guadalupe in Spain, and he was given a replica of the image of Our Lady, which he placed on the flagship of the fleet.
In the Sanctuary of Atotonilco in Mexico near San Miguel de Allende, a place known as the Mexican Sistine Chapel, you can find a side chapel whose ceiling and walls are elaborately painted depicting the miraculous victory at Lepanto, in honor of Our Lady of the Rosary.