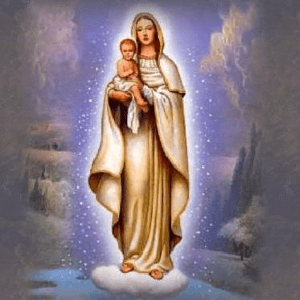 Our Lady of the Snows commemorates an apparition of Our Lady to a faithful husband and wife in Rome in the 300s where she made snow to fall during the hot month of August. A new church, St Mary Major, was built on that spot in answer to Our Lady's direction.
Read the full Our Lady of the Snows novena on the novena page. You can also learn more about novenas here.
What is the story behind Our Lady of the Snows?
A wealthy Roman patrician named John and his wife, childless, wanted to give their wealth to the Church in a way that would honor Our Lady.
On the evening of August 4th, 358 AD, they asked Our Lady what they should do with their money, and that night in a dream (August 5th), the Virgin Mary appeared and told them to have a church built on Esquiline Hill in Rome.
She then said she would cover the exact area in snow, even though it was the middle of summer and very hot.
Mary also appeared to Pope Liberius at the same time, giving him the same message.
They all went to the hill that day, and snow covered the area. Pope Liberius marked the boundaries of the snow and began construction on the church, which would be come St Mary Major, denoting its signature importance to the Church in dedication to Our Lady.
In 1969, the name of the feast was changed to its current title, Dedication of the Basilica of St. Mary Major, owing to doubt by some that the miracle of the snows ever occurred. But a great many faithful believe it and are devoted to it.