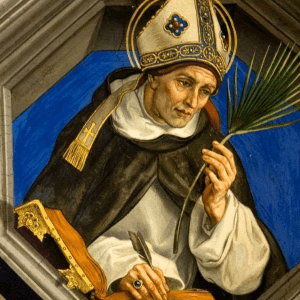 St Albert the Great was a German Dominican friar, philosopher, scientist, and bishop who lived in the 1200s. He is a Doctor of the Church who incorporated Aristotelian philosophy into the Church's understanding of truth.
Read the full St Albert the Great novena on the novena page. You can also learn more about novenas here.
Who Was Saint Albert the Great?
Albert was born around 1193 in Bavaria, a fact we know since he said he hailed from Lauingen, a town in southern Germany.
He attended the University of Padua, where he first became familiar with Aristotle. This formation would greatly influence his understanding of philosophy.
Our Lady appeared to him 1223 and directed him to become a Dominican friar.
He studied theology as a Dominican, rounding out his education in both faith and reason, and became a world renown lecturer.
He taught a several distinguished institutions, and he took on his greatest student ever in St Thomas Aquinas, who himself would become a Doctor of the Church alongside St Albert the Great.
In 1254, St Albert became the provincial of the Dominican Order.
Pope Alexander IV made St Albert Bishop of Regensburg, Germany, in 1260.
Albert humbly traversed across his diocese on foot, never riding a horse, following the spirit of the Dominican Order.
Albert died on November 15th, 1280.
In 1283, authorities opened his grave found his body to be incorrupt.
He is the patron saint of Philosophers, Scientists, Students, Natural Sciences, Medical Technologists/Technicians, and the City of Cincinnati Ohio.
He was Beatified in 1622 by Pope Gregory XV. He was Canonized in 1931 by Pope Pius XI.