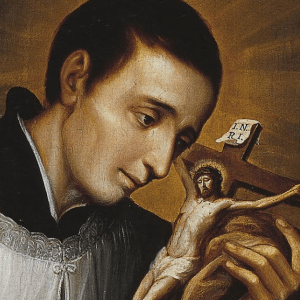 St Aloysius Gonzaga was a sixteenth century Jesuit priest. He was born an Italian aristocrat and gave his life in caring for sick people during an epidemic.
Read the full St Aloysius Gonzaga novena on the novena page. You can also learn more about novenas here.
Who Was Saint Aloysius Gonzaga?
Luigi Gonzaga was born in 1568 in Castiglione, Italy. His first words were "Jesus and Mary."
He was the first-born son and so was destined to inherit his father's title of Marquis. His father wanted him to become a soldier, but after developing a kidney disease when he was eight years old, he made the decision that he would take a vow of purity and enter religious life.
Cardinal (Saint) Charles Borromeo gave him his first Holy Communion.
Aloysius read stories of the Jesuits in their missionary endeavors, and he wanted to follow in their footsteps.
His father and other family members opposed his desire to become a priest and for a time blocked him from doing so.
But in November 1585, he formally renounced his inheritance, which due to his nobility had to be confirmed by the Emperor. He then became a Jesuit, but his ascetism and poor health plagued him (kidney problems, skin problems, headaches and insomnia).
A plague epidemic struck Rome in 1591, and Aloysius requested to work in the Jesuit hospital there.
He personally carried plague victims into the hospital, cared for them, and prepared them for the final sacraments.
This work caused him much suffering, because he was physically repulsed by the terrible sicknesses he was surrounded by.
Aloysius eventually contracted the plague himself, and died on June 21st, 1591, at 23 years of age.