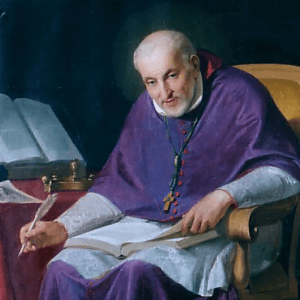 St Alphonsus Liguori was an Italian bishop, writer, musician, and philosopher who founded the Redemptorists and became a Doctor of the Church. He was a big proponent of Mental Prayer.
Read the full St Alphonsus Liguori novena on the novena page. You can also learn more about novenas here.
Who Was St Alphonsus Liguori?
Saint Alphonsus was born Alphonsus Marie Antony John Cosmos Damien Michael Gaspard de Liguori on September 27th, 1696, near Naples, Italy.
He grew up in a devout family, and Alphonsus was the eldest of seven children.
Alphonsus was gifted intellectually, receiving his doctorate at the incredible age of 16 from the University of Naples.
He began practicing law a few years later, but became dissatisfied with the secular world after receiving a vision from God on August 28th, 1723, while at a hospital.
Our Lord directed him to devote his life to God, something that drew ridicule from members of his family.
Alphonsus was ordained to the priesthood on December 21st, 1726, and after six years of preaching and teaching he founded the Congregation of the Most Holy Redeemer (the Redemptorists) on November 9th, 1732.
He faced difficulties in the founding of his new community, but persevered and ultimately the Pope commanded him to become a bishop of an area near Naples with many souls lacking basic instruction in the Faith.
He taught, wrote, directed religious, and composed music during this time, all while taking on many ascetic practices.
He developed rheumatism and suffered greatly from it, becoming permanently bent at the neck, and then paralyzed after an attack of rheumatic fever.
After more reverses and setbacks with his own community of Redemptorists, he died on August 1st, 1787.
He was beatified September 15th, 1816 by Pope Pius VII. He was canonized May 26th, 1839 by Pope Gregory XVI.
In 1871, St Alphonsus was declared a Doctor of the Church by Pope Pius IX.