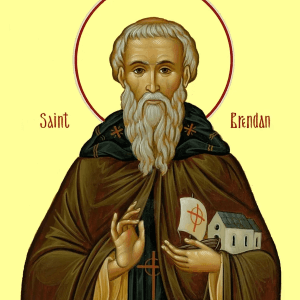 St Brendan the Navigator (also called St Brendan of Clonfert) was an Irish monk and considered one of the Twelve Apostles of Ireland. He made an incredible voyage to find the Isle of the Blessed.
Read the full St Brendan novena on the novena page. You can also learn more about novenas here.
What is the history of St Brendan?
Brendan was born around AD 484 in Tralee, County Kerry, Ireland.
Brendan was baptized then schooled in the Catholic Faith, and when he was 26 years old, he was ordained to the priesthood.
St Brendan then began his travels, founding a monastery on the Aran Islands
He then sailed to an isle of the Scottish coast called Hinba (Argyll). He sailed on to to Wales and then Brittany, France.
Brendan founded more monasteries at Ardfert and Shanakeel before then beginning his great voyage for which is known worldwide, to find the Isle of the Blessed (of Paradise, of Promise).
Brendan sailed onto the Atlantic Ocean with around fifteen monks, looking for the Garden of Eden.
One story relates that he landed on an island, only to discover that it was an enormous sea monster called Jasconius. They lit on a fire on the island only to realize it was a monstrous fish.
On the seven-year voyage, he spotted Saint Brendan's Island, which was covered with lush vegetation.
He briefly was able to set foot on the promised island of the saints, before returning to Ireland with great joy.
After his heroic voyage, St Brendan visited Wales again, then the island of Iona near Scotland, before returning to Ireland and founding another monastery. He lived the rest of his life there.
St Brendan died in 577.
Saint Brendan is also known as St Brendan the Navigator, St Brendan the Voyager, St Brendan the Anchorite, and St Brendan the Bold.