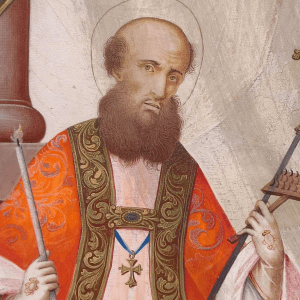 St Blaise was bishop of Sebastea in the third and fourth centuries. God worked healing miracles through him, and he became particularly the patron of those with throat illnesses.
Read the full St Blaise novena on the novena page. You can also learn more about novenas here.
Who Was Saint Blaise?
Saint Blaise was a doctor who helped people with throat problems, especially for those who got items stuck in their throats.
His reputation spread around as a healer, so he went to live in a cave and devoted himself to prayer.
St Blaise's life was cut short by Agricola, the governor of Cappadocia.
In AD 316, Agricola arrested Bishop Blaise for his Catholic Faith.
While being escorted to jail, a mother presented her son, who was choking, in front of St Blaise. God saved the child through St Blaise.
Agricola was astonished, yet he persisted in demanding that St Blaise abandon the Catholic Faith. St Blaise refused, so Agricola had him beaten and then beheaded him.
In art and imagery, Saint Blaise is portrayed holding two crossed candles in his hand, similar to how priests bless the throats of the faithful on St Blaise's feastday.
He is also depicted in a cave with wild animals and with steel combs (which he was tortured with), which are similar to wool combs.