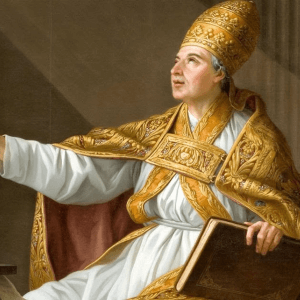 St Gregory the Great was a medieval Pope in the late 500s. He converted the pagan Anglo-Saxons to the Catholic Faith.
Read the full Pope St Gregory the Great novena on the novena page. You can also learn more about novenas here.
Who Was St Gregory the Great?
Pope Gregory I was born around AD 540, the son of a Roman senator. At 30 years old, he was prefect of Rome, an important legal office over a large area, which he held for 5 years.
He founded six monasteries and became a Benedictine monk in Rome.
After he was ordained the priesthood, the pope chose Gregory as one of his seven deacons. Gregory then became the papal ambassador to Constantinople.
After that, he became an abbot, and at age 50 was elected pope.
As pope, St Gregory demanded priests act with integrity and faith. He sent St Augustine of Canterbury to England, along with scores of monks from his Benedictine monastery, and they were instrumental in converting England.
Gregory also spent considerable effort in ensuring that the liturgy was reverent and sacred, and so is known as the Father of Christian Worship.
Pope St Gregory the Great died on March 12th, 604.