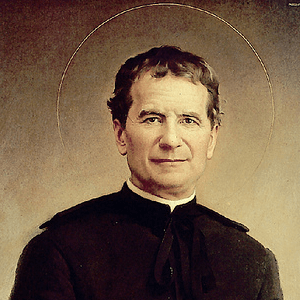 St John Bosco was an Italian priest to whom Christ gave the mission to convert the youth of the country to God. He learned circus tricks to engage young people and established the Salesian order that worked to help children.
Read the full St John Bosco novena on the novena page. You can also learn more about novenas here.
Who Was Saint John Bosco?
St John Bosco, known affectionately as Don Bosco, was born in Becchi, Italy, on August 16th, 1815.
John's father died when he was just two years old, leaving his family in poverty.
In spite of these difficulties, John faithfully attended Mass and he and his family helped those in need whenever they could.
Jesus and Mary appeared to John in a dream when he was nine, showing him a group of boys and telling him that he would win their hearts over.
While still a boy, John saw a traveling circus and learned their tricks and sleights of hand so that he could capture the attention of others.
John wanted to become a priest, but he lacked the education and financial resources.
His brother opposed John's vocation, but John was relentless. He had an incredible memory and could recite homilies from heart that he had heard.
At age twenty, John entered seminary and six years later was ordained a priest in 1841.
He was assigned to the city of Turin, an industrial city with many poor people, including street children.
Fr. Bosco, as he was now known, used his circus tricks to engage the boys, then he would share the Gospel with them.
He worked with his own mother, Mamma Margherita, to find work and homes for the boys, and he negotiated for better labor conditions for them.
Fr Bosco established the Society of St. Francis de Sales in 1859, the Salesians as they are known now.
He died on January 31st, 1888.
Pope Pius XI declared Fr Bosco to be Blessed in 1929. St. John Bosco was canonized on Easter Sunday, 1934 and he was given the title, "Father and Teacher of Youth."
Saint John Bosco is the patron saint of apprentices, editors and publishers, schoolchildren, magicians, and juvenile delinquents. His feast day is on January 31st.
Feastday: January 31 Patron: of apprentices, editors and publishers, schoolchildren, magicians, and juvenile delinquents Birth: August 16, 1815 Death: January 31, 1888 Beatified: June 2, 1929 by Pope Pius XI Canonized: April 1, 1934 by Pope Pius XI