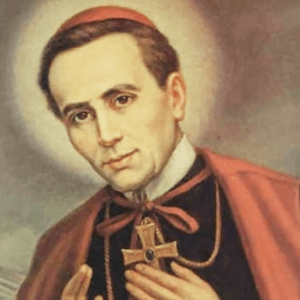 St John Nepomucene Neumann was a Bohemian Catholic Redemptorist priest. He founded the first Diocesan Catholic school in the U.S.
Read the full St John Neumann novena on the novena page. You can also learn more about novenas here.
Who Was St John Neumann?
John Neumann was born on March 28th, 1811 in Bohemia.
In 1836 he immigrated to the U.S. and was ordained a priest, joining the Redemptorists.
In 1852, he was ordained Bishop of Philadelphia and founded the first Diocesan Catholic school system.
John had hoped to be ordained in Bohemia, but due to their large number of priests, the bishop there suspended additional ordinations.
This action prompted John to learn English, and he wrote to U.S. bishops, inquiring if any needed priests. The Bishop of New York ordained him to the priesthood, and he was given a parish in western New York that spanned a large geographical area.
He was tireless as a priest visiting villages and towns, covering large distances to bring the sacraments to the faithful.
However, he became lonely and so sought out the Redemptorists to have fellowship in an Order of priests.
His virtue and faithfulness were recognized, and he was chosen to become Bishop of Philadelphia.
What was Saint John Neumann known for?
St John Neumann is known for starting almost 100 new Catholic schools in his diocese, leading to him being named the patron saint of Catholic education. He is also the first U.S. male citizen named a saint.
St John Neumann always kept the needy and poor before his eyes and served them throughout his life, even as a Bishop.
He was a polyglot and learned several languages, including Spanish, Dutch, Italian, French, and even Gaelic for the Irish immigrants that were pouring into America.
St John Neumann died January 5th, 1860. He was 48 years old.
St John Neumann was beatified on October 13th, 1963, by Pope Paul VI. St John Neumann was canonized on June 19th, 1977, also by Pope Paul VI