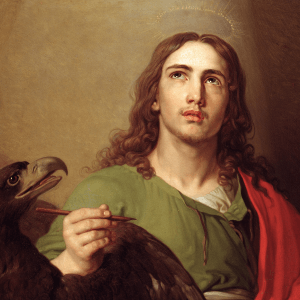 St John the Apostle was one of Jesus' closest disciples. He was the youngest of the Apostles, wrote one of the four gospels, was made the guardian of Our Lady by Jesus on the Cross, and wrote several epistles as well as the book of Revelation.
Read the full St John the Apostle novena on the novena page. You can also learn more about novenas here.
Who Was Saint John the Apostle?
St. John the Apostle, also known as St John the Evangelist and St John the Beloved, was the son of Zebedee and Salome and brother of St James the Greater.
Jesus named St John and his brother St James as Boanerges, meaning sons of thunder.
Tradition says that St John outlived all the other Apostles and was the only one who did not die a martyr (though he was a martyr in will, just not in deed, because he was willing to be martyred).
St John was the sole Apostle to not abandon Jesus during His Passion on the Cross.
Tradition also holds that St John went to Ephesus, was banished to the island of Patmos, after the Romans attempted to martyr him but failed due to a miracle.
St John, Apostle and Evangelist's feast day is on December 27.