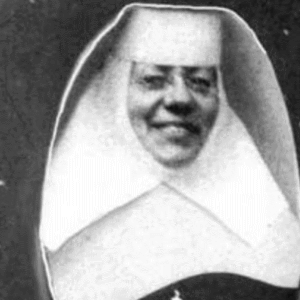 St Katharine Drexel was a wealthy American heiress whom God called to become a nun and serve Native and African Americans. She is the second American-born saint to be canonized by the Catholic Church.
Read the full St Katharine Drexel novena on the novena page. You can also learn more about novenas here.
Who Was Saint Katharine Drexel?
Katharine was born on November 26th, 1858, in Philadelphia, to a wealthy family.
Her family traveled the world but remained deeply faithful to Christ and His Church.
Katharine's father dedicated himself to daily prayer, something that she witnessed and made a lasting impact on her. Their family gave to the poor and needy every week.
Katharine's mother died when she was young, and her father remarried. But her stepmother got cancer and Katharine saw in her suffering that money does not protect one from pain and difficulties.
God used this situation to draw Katharine into His mission for her, to serve those in need, especially black and native Americans.
In 1889, Katharine became a postulant with the Sisters of Mercy in Pittsburgh.
Some years later, she was called to found a religious congregation called the Sisters of the Blessed Sacrament for Indians and Colored.
For the next sixty years, Katharine gave of herself in her mission, which included schools in Santa Fe and the south and west of the United States.
In 1915, Katharine established Xavier University in New Orleans, the first Catholic university in the U.S. for African-Americans.
Mother Katharine, as she was long-known, died on March 3rd, 1955 at 96 years of age.
Her religious congregation still serves African-Americans and Native Americans in many U.S. states as well as in Haiti.
St. Katharine was beatified on November 20th, 1988 and canonized on October 1st, 2000, both by Pope John Paul II.
She is the patron saint of peace between all races of people, and of philanthropists.