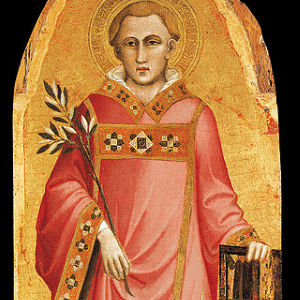 Saint Lawrence was one of the seven deacons of Rome under Pope Sixtus II who were martyred under Emperor Valerian's persecution in 258 AD. He was tortured by being burned alive on a griddle in public.
Read the full St Lawrence novena on the novena page. You can also learn more about novenas here.
What was St Lawrence known for?
Lawrence was born on December 31st, 225, in Huesca to a faithful family.
Lawrence met the future Pope Sixtus II in Caesaraugusta (now Zaragoza), and they journeyed from Spain to Rome.
In 257, Pope Sixtus II ordained Lawrence as a deacon, and later made him archdeacon of Rome, a position with great responsibility in dispensing alms to the poor from the Church's treasury.
In 258, Emperor Valerian arrested Pope Sixtus and his deacons and ordered they be beheaded.
Deacon Lawrence was ordered to hand over the wealth of the Church to Valerian, and if he did so, he could escape death, but St Lawrence obeyed by assembling the poor and needy of Rome, to whom the Church ministered, and presenting them to the Emperor as the Church's wealth!
When the Emperor realized what Lawrence had done, he flew into a rage and ordered Lawrence's execution by frying over a griddle.
After being burned on the griddle, St Lawrence told his executioners, I'm done on this side. Flip me over.
By St Lawrence's witness of martyrdom, countless Roman pagans converted to the Catholic Faith.
St Lawrence entered eternal life on August 10th, 258.