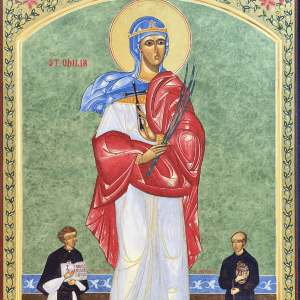 Saint Odilia is a virgin martyr from England from the 300s. She was killed in Cologne, Germany by barbarians due to her Catholic faith.
Read the full St Odilia novena on the novena page. You can also learn more about novenas here.
What is the story of St Odilia?
Odilia was the daughter of a British King in the late 200s.
Odilia, Ursula, and eight other virgins left Britain for Germany to find a place to live their Catholic faith.
They arrived at Cologne, and barbarians martyred them for their faith.
In 1287, Saint Odilia appeared to John Novelan, a brother of the Crosier Order and informed him that God had made her Protectress and Patroness of the Crosiers.
She told him where to go in Cologne to find her relics, in an orchard, and he went with a priest of the Order to locate them.
The relics were right where St Odilia said they would be, and they took them to the Crosier's Motherhouse in Huy (Belgium).
Along the way, people were miraculously cured of blindness, paralysis, and other disorders through her intercession.